Quickies: Fossil Wrist PDA, Serial Cables, VeriChat & More
Thursday, March 3, 2005 1:23:48 PM
A new Fossil Wrist PDA review, a Colecovision emulator for the Treo 600, new T5 and Treo 650 serial cables with power out, the Treo 650 shows up in Thailand, The Missing Sync, Verichat and Aeroplayer have all recently been updated, SSL support comes to Agendus Mail and more in this quickie update.
Fossil Palm Powered Wrist PDA Review
PDAGeek has posted an excellent review of the Fossil FX2008 Palm Powered Wrist PDA. The review features over 30 shots of the unit in action.
Colecovision emulator for Treo 600
Jeff Mitchell has updated his Columbo Colecovision port to run on the Treo 600 with audio and 5-way control. Columbo is a freeware open source emulator of the Colecovision home game console from the early 1980's.
Serial Cables for the T5 and Treo 650
PN Technologies has announced a new cable product line to take advantage of the POWER_OUT pin of the Tungsten T5 and Treo 650 handhelds. This is significant news for anyone purchasing a Tungsten T5 or a Treo 650, since at present there is no other RS232 serial cable solution on the market. The new cables works properly with the Tungsten T5 / Treo 650 in order to implement True RS232. The POWER_OUT pin of the Tungsten T5 / Treo 650 is utilized to power the RS232 electronics. Software is provided to turn on the POWER_OUT pin. The cables available are modem cables and work with just about any type of serial device that one would wish to plug into.
VeriChat Update
VeriChat Premium Edition has been updated and now allows you to be signed on to multiple IM accounts of the same type, and allows you to access VeriChat Bots- a rich set of powerful information applications and utilities. [BUY]
AeroPlayer v5.2
The popular MP3 and Ogg Vorbis digital audio program AeroPlayer has been recently updated to v5.2. New features include support for .m3u playlists, 11 new languages and minor bugfixes. [BUY]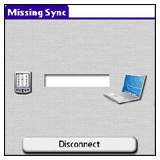 Missing Sync Improves Treo Support
Mark/Space has released The Missing Sync for Palm OS v4.0.4. This release fixes several issues, including failed multiple syncs with the Treo 650, file copying from the Treo 650 and Tungsten T5 that resulted in files which could not be read on the Mac and Bluetooth syncing that would timeout early. The update also improves conduit support for Tapwave Zodiac devices and Bluetooth syncing. [BUY]
Treo 650 in Thailand
Benja Arthachinta wrote in to let us know that the palmOne Treo 650 is now available in Thailand. It was recently launched on Feb 22nd.
NS Basic Programming contest
NS BASIC Corporation has announced their 6th Palm Programming Contest. They expect some cool stuff this time, taking advantage of larger screen sizes and ARM Native code of the latest devices. The past 5 contests have seen great improvement of entries in quality, performance and sophistication. This time, they have three categories: Business/Enterprise, Games and Open. All registered NS Basic/Palm users are welcome to participate in the contest.
The prizes are $100 USD in each category. All programs must be written in NS Basic for Palm, or be Shared Libraries for NS Basic/Palm. Entries may be commercial, shareware or freeware. Send your questions and entries to contest@nsbasic.com. The deadline is March 31, 2005 at 12 midnite EST.
DesktopSync for funSMS
The often awarded SMS Manager for Palm OS Organizer and Smartphones funSMS has got a companion on the desktop: DesktopSync for funSMS. It gives you the opportunity to manage your SMS data with incomparable ease. Archive, categorize, filter and delete SMS messages as well as search for SMS. With DesktopSync for funSMS you can maintain data on your desktop - no matter how long you want to store it and how big your SMS database is. DesktopSync for funSMS automatically retrieves data from the Palm Address Book – whether using Palm Desktop 4.x, Palm Desktop 4.1.4 or Outlook. You can change the source of Address Book on-the-fly without uninstalling the current Address Book source to implement a new Address Book source. [BUY]
iambic Releases SSL Edition of Agendus Mail
iambic today announced the release of Agendus Mail SSL Edition, a more secure version of its powerful, easy-to-use, email solution for Palm OS devices. This SSL Edition delivers full email functionality and supports the most popular methods of establishing secure communications over email protocols (POP, IMAP and SMTP), enabling users to securely send and receive email messages, wirelessly and via desktop synchronization, without compromise. Agendus Mail SSL Edition is tightly integrated with the award-winning, Agendus for Palm OS Professional Edition personal information management (PIM) program, so emails and SMS can be conveniently sent directly from the contact manager. Agendus Mail SSL Edition can be downloaded and purchased from iambic.com for $49.95. Current owners of Agendus Mail or Agendus for Palm OS Professional Edition can purchase Agendus Mail SSL edition for $10.95.
Article Comments
(15 comments)
The following comments are owned by whoever posted them. PalmInfocenter is not responsible for them in any way.
Please Login or register here to add your comments.