Fossil Releases FX2008 Palm OS Wristwatch PDA
Thursday, January 6, 2005 1:02:28 PM
PalmSource today welcomed the Wrist PDA with Palm OS from Fossil, the next generation Palm Powered wrist watch. Available under the ABACUS and FOSSIL brands, the Wrist PDA with Palm OS combines all of the benefits Palm OS has to offer with the portability and convenience of a wrist watch.
The Wrist PDA with Palm OS from Fossil builds momentum for the Palm OS platform in new markets of mobile products; encourages licensees to drive innovation in emerging mobile device categories; and provides business opportunities for the Palm OS software developer community.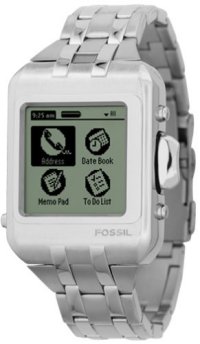 "The Palm OS platform offers our licensees the flexibility to create innovative and diverse mobile products like the Fossil Wrist PDA with Palm OS that meet the individual needs of mobile users. Easily customized with the thousands of Palm OS software titles available today, we believe the Fossil Wrist PDA with Palm OS provides a powerful and intuitive tool which blends fashion and technology by providing consumers immediate personal and professional information at the flick of the wrist," said David Nagel, president and chief executive officer for PalmSource, Inc. "From smartphones to wrist watches, Palm Powered products run the gamut in form factor and functionality, offering the widest selection for users to choose the device that best fits their lifestyle."
The FOSSIL and ABACUS branded Wrist PDA features:
Palm OS version 4.1
8 MB of memory (approx. 7.7 MB available to the user)
160 x 160 pixel LCD with backlight
Touch screen input
3-way Rocker and Back button for one-handed navigation
Customizable watch faces
USB interface supports Windows and Mac
IRDA infrared communication port
Lithium-ion rechargeable battery (lasts approximately three to four days between charges)
"Leveraging the industry-leading Palm OS has enabled Fossil to successfully bring to market the first truly wearable Palm Powered mobile product of its kind," said Frank Romero, Director of Technology Watch Products for Fossil, Inc. "We look forward to our continued collaboration with PalmSource to provide Palm Powered users with cutting-edge wearable mobile products."
The new Wrist PDA is available in two different brands, FOSSIL and ABACUS, and will hit store shelves on January 6th. The Fossil branded product (FX2008) can be found at Fossil stores nationwide or at Fossil. The FOSSIL Wrist PDA is priced at a MSRP of $249.00 USD.
The ABACUS brand Wrist PDA product (AU5005) will be available exclusively through a direct sales and marketing partner, Tiger Direct. Product information is available at AbacusWatches.com and the product can be purchased at TigerDirect.com. The ABACUS Wrist PDA is priced at a MSRP of $199.00 USD,
Article Comments
(37 comments)
The following comments are owned by whoever posted them. PalmInfocenter is not responsible for them in any way.
Please Login or register here to add your comments.