Palm Announces New Centro Accessories & Discontinues MAP Policy
Wednesday, May 7, 2008 11:32:54 AM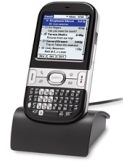 Palm's recent May 1st newsletter to retail and reseller partners contains a variety of interesting tidbits relating to new peripheral announcements, product EOL announcements and a change in reseller pricing strategies.
First off, Palm has quietly announced two new branded peripherals for the Centro smartphone line. The first is a small, no-frills desktop cradle designed for the smaller Centro form-factor priced at $29.99 (3401WW). This cradle, unlike the excellent older Palm Treo cradle kit, does not appear to support the charging of a spare battery and looks surprisingly similar to the classic wedge-shaped Universal Connector Hotsync cradle used by Palm from the 2001's m500 line all to the way to 2003's Tungsten T3. This is the same cradle that Ryan photographed when visiting with the Palm reps at the CTIA show in March.
Palm's second news product is a Centro Audio Adapter at $9.99 (3397WW). This is likely just a revised version of the existing Palm headphone adapter that I reviewed back in 2006. That old design was terribly bulky and quite fragile so hopefully Palm has improved somewhat on that product's design. Of course, Palm's refusal to follow RIM and many other handset makers by including an industry-standard 3.5mm stereo headphone jack in their smartphones would mitigate the need for these cumbersome adapters and underperforming proprietary headphone solutions, such as this one from Palm that I reviewed last year.
A quick search online turned up a handful of merchants with these product SKUs already in their systems but none appear to have them in stock for sale and some e-tailers are listing these products with higher prices than Palm's MSRP. The Centro cradle is available for purchase currently in Palm's online store but there is no sign of the new Audio Adapter.
In other Palm-branded accessory news, the 512mb microSD card has been EOL'd and Palm has lowered the prices on their 1GB ($19.99), 2GB ($34.99), and 4GB ($59.99) microSD/SDHC cards to be a bit closer to the street prices by other flash memory manufacturers. However, Palm's recommended street pricing is still nearly twice what comparably sized cards from memory companies such as A-DATA and Transcend are available for online from reliable merchants. It is surprising that Jon Rubinstein & Co. have not decreed that Palm exit the price-sensitive, ultra-competitive flash memory market, as it would not seem a logical fit for the company's long-term goals, even though they are merely rebranding existing cards with considerable markup.
Minimum Advertised Price Policy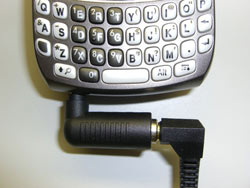 Finally, in what may be an ominous sign or a harbinger for more aggressive marketing from Palm, the company has quietly announced plans to discontinue its MAP policies (Minimum Advertised Price Policy) effective June 1st. In a nutshell, this policy appears to have been previously enforced by Palm to keep margins high for resellers and prevent cutthroat price competition amongst advertised sale prices, both print and electronic. The lifting of this ban could mean that Palm is looking to become much more aggressive with promoting their products with little regard for maintaining their margins. It could also be indicative of Palm looking to dramatically reduce their total number of SKUs offered for sale and/or a hint that Palm may completely exit the traditional retail brick & mortar retailers to focus on online sales and through carrier stores.
Article Comments
(12 comments)
The following comments are owned by whoever posted them. PalmInfocenter is not responsible for them in any way.
Please Login or register here to add your comments.