New Version of mVoice Now Available
Friday, March 28, 2008 9:09:24 AM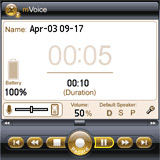 Motion Apps continues to tweak and improve their mVoice phone call and voice memo recording app for Palm OS devices. This time around, the new version 5.5.6 has been released. The company's changelog for this release is mentions "minor improvements" being made to this version. Nevertheless, it's always a reassuring sign to see developers continue to stand behind their products with continued improvements.
mVoice is available now for $24.95 and runs on the Treo 650, 680, 700p, 755p and all versions of the Centro. My review of version 5.0 of mVoice can be found here.
I performed some quick testing of 5.5.6 on my Treo 755p. I was able to grab the updated 193k version using the app's automatic version checker. I downloaded and installed it OTA on my Treo, despite two consecutive soft resets occurring while running the Nutshell installer. While I did not notice any major performance improvements over the previous version, the program has definitely made some small but noticeable strides since version 5.0.
Leave a comment...

Click on the
Start New Comment button
below to begin a discussion.
You must be
registered
and
logged in
to add comments.