Palm OS Cobalt Phone Shown at DevCon
Tuesday, May 31, 2005 1:34:01 PM
Palm OS Developer David Beers was at the PalmSource DevCon last week and caught some time with a working Palm OS Cobalt smartphone. David wrote up his impressions of the device and took some comparison pictures of the Oswin Cobalt prototype.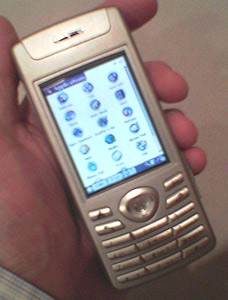 Oswin Palm OS Cobalt Phone Shown at PalmSource DevCon
By: David Beers
Colorado Mobile Developers
I'd read a couple of rumors about this, but now I've seen it with my own eyes and can confirm: Palm OS Cobalt is alive and well running on a very nice piece of phone hardware developed by Oswin Technology. This device was floating around in the lab during the PalmSource DevCon last week. I can confirm that it's definitely running Palm OS Cobalt.
You can't tell from the poor cam-phone image, but this has an extremely sharp 240x320 (QVGA) screen--the smallest one I have ever seen. The physical screen width is noticeably smaller than the 160x160 screen on my Samsung i500, despite having 1.5x the resolution on that dimension. This makes the default fonts very tiny indeed--too tiny, I imagine, for some folks to read easily. But it also makes for a very sharp looking display.
The device is phone-centric. Its tiny form factor leaves no room for a thumb keyboard and there are no dedicated buttons for launching applications, just a menu button and a "Home" button that takes you to the launcher. There's another explanation for why the hardware keys are somewhat generic: the phone was designed to run multiple operating systems. A representative from Oswin that I spoke with showed me a model that he was able to dual-boot between Palm OS Cobalt and Windows Mobile. Fine trick that, though I don't expect that to be a feature we'll see on devices released by OEMs!
You can see from the next picture that the Oswin, which is otherwise quite small, is somewhat chunky in thickness. It's actually quite a nice form factor. That grey rubber plug on the side covers a mini-SD card slot (nice to have that removable). Nearer the top (right side of the picture) is the camera shutter button and in between is another button that I'm not sure about.
Notice there are no labels, logos, or badges anywhere. That's because Oswin is still shopping this around to OEMs for mass production.
Overall, I don't think this phone has the makings of a "Treo killer" since it lacks the popular thumb keyboard and doesn't give single-button access to the PIM apps. But for those who want a really small candy bar style smart phone it seems to have a lot going for it. It definitely blows away Symbian Series 60 phones having about 4 times the screen resolution and a touch screen so you don't have to use T9 "predictive text" to enter data if you prefer pen input.
Article Comments
(107 comments)
The following comments are owned by whoever posted them. PalmInfocenter is not responsible for them in any way.
Please Login or register here to add your comments.

Only the first 50 comments are displayed within the article.
Click here for the full story discussion page...