SharkCache Eliminates LifeDrive Lag
Saturday, June 4, 2005 1:06:01 PM
SharkCache is a new application specifically designed for the palmOne LifeDrive, that allows you to eliminate the application launch delay for your most used apps.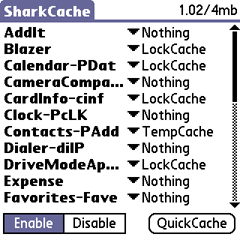 As noted in our LifeDrive review, some applications can experience a small amount of delay when launched. For example, larger applications like the Blazer browser can sometimes take up to 2-3 seconds to launch from the hard drive after being selected. SharkCache helps to eliminate this lag by locking your most used applications permanently in the device memory so there is no delay time.
SharkCache allows you to select which programs you want to lock in cache. It has three options you can set for each app installed on your LifeDrive:
Nothing: Choosing this option for an application is the same as not having SharkCache installed (the app is not touched on reset)
LockCache: The application is locked into cache on reset so that it can't come out. This produces the same effect as having an app in RAM on a normal Palm (like a Tungsten T3). You have up to 4 megabytes of memory in which to store LockCached apps, so it may not be ideal for very large applications.
TempCache: TempCache is a better choice in the case of very large applications. It's the same as LockCache except that it doesn't lock the app in RAM and therefore doesn't eat up any of LockCache's 4mb. The trade-off is that although the app is loaded at startup, it can be kicked out of RAM if the system sees fit.
The program has a seven day trial and costs $10 USD to register.
Article Comments
(37 comments)
The following comments are owned by whoever posted them. PalmInfocenter is not responsible for them in any way.
Please Login or register here to add your comments.