Palm Releases Major Cingular Treo 650 Update
Tuesday, July 26, 2005 8:55:19 AM
Palm and Cingular Wireless have made available an update to the Treo 650. Cingular Wireless Treo 650 customers will be notified of this update via an SMS. The ROM update offers many improvements including NVFS fixes, voice quality enhancements and improved battery performance.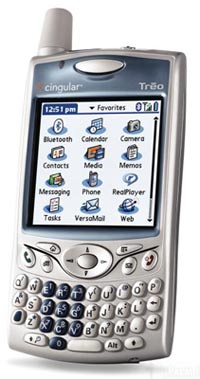 The software update (version 1.15) provides improvements in several areas including:
Optimizes memory handling and frees up more memory with non-volatile file system improvements.
Includes VersaMail 3.0c, the latest version for Cingular Wireless Treo 650
Adds voice quality enhancements
Includes "Get Good" application which facilitates faster, wireless installation of Good Technology's GoodLink email software for business customers
Improves battery life by automatically turning off the screen after 30 seconds of a call. Most users will not notice while the handset is next to their ear, but this power-saving feature lets you continue your conversation with the display off. The power savings will vary depending on usage patterns. To turn the display back on at any time, tap the screen. Do not press the red Power/End button, unless you want to end the call. The screen-off feature applies to handset mode only, not speakerphone or headset modes.
Incorporates two software patches previously released on Palm's website:

Carkit Update for Treo 650 (Bluetooth carkit drivers)
Treo 650 Voicemail Updater 1.04 for Cingular Wireless
Article Comments
(12 comments)
The following comments are owned by whoever posted them. PalmInfocenter is not responsible for them in any way.
Please Login or register here to add your comments.