iambic Releases Agendus v10
Wednesday, September 21, 2005 2:41:18 PM
iambic has announced the release of Agendus for Palm OS Version 10, a new version of its award-winning, fully-integrated, personal information manager for Palm OS handhelds and smartphones. This latest version of Agendus is more intuitive and includes many new features that simplify time and contact management. Plus, it has been optimized for one-hand operation.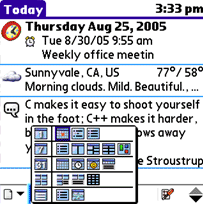 To simplify ease-of-use, version 10 of Agendus for Palm OS has web-style hyperlinks that enable users to move quickly from a meeting, to a memo, to placing a call or sending an email/SMS. This "one-tap" operation is especially beneficial for Treo owners because they can operate their device with one hand, using the dpad. Other dpad-friendly features include the all-new, icon-clustered toolbar, and the dialogs for setting alarms (now available for memos) and meeting times.
The user interface has been improved with a new feature called Glance@Agenda, which automatically shows an optimized layout for viewing details of a meeting, call, task or contact. Plus, users now can see a whole year on their calendar at-a-glance.
For contact management, version 10 of Agendus has a new networking feature that allows users to establish relationships between contacts. This feature makes it easy to navigate from one contact to another, which saves time and simplifies the management of a growing address book.
New to version 10 of Agendus for Palm OS Professional Edition is a trip wizard that makes it easy to group together all trip-related activities to create an itinerary in the palm of your hand.
This version of Agendus expands upon the types of information that can be connected to a meeting, memo or To Do, by enabling users to add voice recordings and drawings/sketches.
Furthermore, version 10 of Agendus for Palm OS Professional Edition is designed to work directly with the Treo built-in camera. And, the new image picker feature makes it easy to crop photos (which is especially useful for getting a headshot from a group photo) to add to a contact.
Expanded Over-The-Air (OTA) Features
For users of Agendus for Palm OS Professional Edition with Web-enabled devices, there now is an option to download "This Day in History" information. From the Contact view, users can perform address verification and obtain driving directions. The user also can select when and how often the OTA information is updated.
Agendus for Palm OS Professional Edition, Version 10 can be downloaded and purchased from iambic for $39.95. For information on upgrade options, visit here
Article Comments
(12 comments)
The following comments are owned by whoever posted them. PalmInfocenter is not responsible for them in any way.
Please Login or register here to add your comments.