Palm Launches New Mobile Portal Page
Monday, November 5, 2007 12:18:50 PM
A new version of Palm's Mobile Portal for Palm devices utilizing the Blazer web browser quietly went live over the past weekend. Logging on to the mobile.palm.com default home page in the evening of Sunday the 4th, revealed a face lifted Palm mobile portal. I was using on a Verizon 700p with Blazer 4.5.
Aesthetic-wise, the portal has received a makeover with a wide Palm orange bar running the full width of the screen. The page's fonts have been slightly enlarged with redundant site names (for example, ending in ',com') having been cleaned up. The Google search box is still present at the top of the screen but its width has been increased to facilitate easier search queries. The overall page is about 1/3 longer than previously, so a bit more scroll will be required.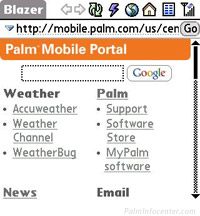 As far as content, several new categories for content have been added: "Food", "Transit", "Reading", "Shopping" , and "People". The ambiguous "Extras" category has been omitted. The earlier categories are still present and, in several cases, have been updated and expanded. The Email category, for example, now has four sites linked on the main page with the inclusion of the ever-helpful mail2pda.com site. In addition, the "Travel" category is now complimented by "Transit". The page overall seems to be a bit snappier to load than previously.
Overall, the changes are quite eye-catching and the added content is a definite improvement. Unfortunately, Palm seems to be tailoring the version of the home page to the particular Blazer or device version being used. A quick check of the mobile portal with my trusty Palm TX handheld running Blazer 4.3 brought up the old version of the portal, another discouraging sign that Palm is intentionally moving away from their remaining PDA user base.
The new version can be accessed directly at:
http://mobile.palm.com/ or http://mobile.palm.com/us/centro.epl
Article Comments
(7 comments)
The following comments are owned by whoever posted them. PalmInfocenter is not responsible for them in any way.
Please Login or register here to add your comments.