Palm Launches Treo 650 Smartphone in China
Wednesday, November 30, 2005 10:19:18 AM
Palm in cooperation with CEC Telecom Co., a subsidiary of Qiao Xing Universal Telephone, Inc., a leading manufacturer of indoor phones and mobile phones and a go-to-market partner in China, today announced the launch of the Palm Treo 650 smartphone in China. With its full-featured GSM/GPRS/EDGE quad-band phone, a Palm OS organizer, messaging, email and web access capabilities in a compact design, the localized Chinese-language Treo 650 brings the Palm mobile-solutions experience to Chinese consumers and businesses.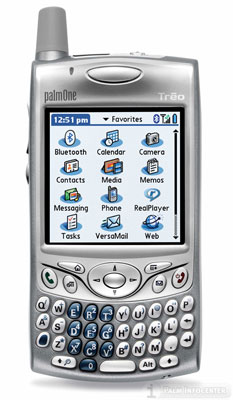 The Treo 650 is available now at key retailers in China. CECT is an excellent fit for Palm's sales and marketing strategy in China. The collaboration taps into the growing China market, which according to IDC is expected to be close to 7 million converged devices to be shipped by 2009, representing a compounded annual growth rate of 28 percent.
"Palm is thrilled to collaborate with CECT to help reach the huge market potential in China and redefine the smartphone experience there," said John Hartnett, Palm senior vice president for worldwide sales. "We look forward to serving Chinese mobile professionals and businesses with a tool that helps them stay connected to important information, whether it's in the corporate data center, on the web or on the smartphone itself."
"The increasingly mobile work force in China is looking for mobile devices that feature superior ease of use and excellent hardware and software integration -- all to manage their busy lives," said Gu Lei, chief operating officer, CECT. "Palm's innovative and easy-to-use smartphone, together with CECT's well-established status in the local mobile-phone market, will provide a competitive edge for Palm and help it lead the development of smartphone trends in China."
"It's Time for Treo" Campaign
To build awareness for the Treo smartphone, China is the first market in the Asia Pacific region to launch the "It's Time for Treo" campaign, positioned to address business professionals in China. The integrated marketing campaign will have outdoor, airport and print advertising, in-store merchandising, and online interactive contests to support the Treo 650.
Article Comments
(13 comments)
The following comments are owned by whoever posted them. PalmInfocenter is not responsible for them in any way.
Please Login or register here to add your comments.