Handheld Vibration Spectrum Analyzer
Sunday, February 26, 2006 12:14:03 PM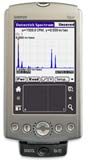 Datastick Systems has released the first handheld PDA-based Vibration Spectrum Analyzer / Data Collector for Palm Powered devices. Vibration Spectrum Analyzers are used for industrial machine diagnostics and predictive maintenance. The software provides easy operation with open PC software that allows push-button data export to any PC running Microsoft Excel.
The system includes the new Datastick VSA-1212 Vibration Spectrum Analyzer module that attaches securely to select PDAs running Palm OS; new Datastick Spectrum handheld software that collects and stores vibration measurements while displaying them in time waveforms and FFT spectra complete with alarm levels; and Datastick Reporting System (DRS) software for PCs, which is based on Microsoft Excel. Vibration data from the PDA exports to the PC with a single press of a button and loads into the DRS workbook on the PC with two mouse-clicks.
The VSA-1212 module is designed to use standard ICP-type industrial accelerometers. The Datastick Spectrum software that runs on the PDA places all the vital waveform or FFT spectral information on one screen. Data can be shown in terms of acceleration, velocity, or displacement, and versatile cursor-point tools enable precise zooming and numerical readout of any data point, and can show the relationship between any two data points. An "Add Note" feature allows the user to attach written observations to individual waveform or spectrum captures.
"The VSA-1212 system will enable more companies to take advantage of the cost-saving and efficiency benefits of routine machine condition monitoring in predictive maintenance. In addition it's an excellent, easily affordable troubleshooting device for field service technicians and organizations," said Michael Scandling of Datastick Systems. "Until now, there have been two barriers to wider use of vibration analyzers: initial cost and the perception that you have to be a vibration expert to use them. The VSA-1212 breaks down both of these barriers."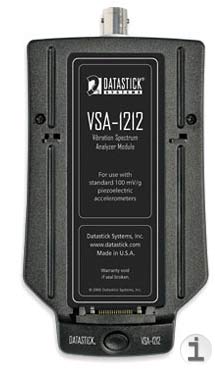 Up to 22 MB of recorded waveform and spectrum data can be stored in the recommended Garmin iQue 3200 or 3600 handheld computer, enough to store data from more than 700 inspection checkpoints. There are 6 selectable FFT windowing options and a broad selection of maximum frequency options. The user can use alert levels based on ISO standards, or set his own. Industry-standard BNC connectors connect with industrial-grade accelerometers, and a ruggedized case is available for the system.
"A wealth of PDA software includes spreadsheets and word processing programs, and if the user selects a Garmin handheld, he can track GPS locations in a separate program," said Scandling. "For added functionality, a user can detach the VSA module from the PDA, attach a Datastick module for data acquisition, attach sensors for temperature, pressure, humidity, and other factors, and have an entirely new instrument."
The VSA-1212 supports these handhelds: Palm Tungsten T, T2, T3, C, Palm m-500 series, Garmin iQue 3200, and Garmin iQue 3600.
Article Comments
(14 comments)
The following comments are owned by whoever posted them. PalmInfocenter is not responsible for them in any way.
Please Login or register here to add your comments.