Agendus Professional v11 Released
Tuesday, June 20, 2006 11:37:46 AM
iambic has released Agendus Professional Edition v11 for Palm OS today. This latest version of the Agendus personal information manager has been optimized to handle the dynamics of everyday life to provide a level of proactive personal assistance that so far has only been available from a "real-life" assistant, not a Treo smartphone or PDA.
"In this release of Agendus, we really focused on features that build upon the interrelatedness of things, such as people to people, meeting agendas and action items to actual meetings, and even the myriad of things you need to track when traveling, including keeping the time zone straight," said Adriano Chiaretta, chief operating officer at iambic, Inc. "It's all about helping you be more productive and make better use of your time. And what better way to do that than leverage something that you're already carrying around with you -- like your Treo smartphone."
Agendus Professional for Palm OS Version 11 has has improvements for managing your contacts.
Contact Networking allows you to link contacts together by identifying relationships (assistant, co-worker, friend, relative, etc).
The Contact Network Smart Build feature automatically creates contact relationships based on criteria such as past events, name, company name and other information pulled from the your data.
When you are using Contacts, in addition to Compact and Expanded viewing modes, there is now a Networking mode, that lets you "drag and drop" one name onto another to create a relationship on-the-fly.
Being More Productive -- Meetings & To Dos:
In order to make the best use of your meeting time, it is helpful to have readily available a list of topics that you need to cover. The new Agenda Walkthrough feature helps facilitate this by providing an easy way to create that list, track what actually happened and which items are to be moved to subsequent meetings. This Walkthrough feature can also come in handy for trips to the store and for helping you with your everyday errands.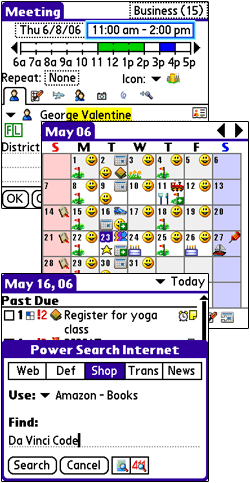 Improvements were made in the Tasks/To Do part of Agendus. It now supports Outliner/Mini Project Tracker, which means that you can use your desktop computer to quickly type in the various tasks you are tracking. When you perform a Hotsync, those tasks will appear in your Treo. Also, in Task mode, the Hierarchy view now shows percent completion.
Agendus for Palm OS Version 11 now provides seamless and complete integration between mobile and desktop environments. Features such as icons, To Do hierarchy and contact relationships, can be synchronized from Agendus on your handheld to your desktop, through Agendus for Windows Outlook Edition and Agendus for Windows Palm Desktop Edition.
The user interface has always been an area of focus for iambic. With this release, you now have browser-like capability to go back to previously viewed screens. Also, in calendar mode, there are now sixteen views to choose from, with the "Today" view including up to six upcoming calendar, task, call and alarm related items. Rescheduling a meeting or To Do, can be accomplished quickly by dragging and dropping the item onto its new day/time.
Just in time for your summer holiday, iambic has made travel tracking in Agendus for Palm OS Version 11 much more robust. It is now even easier to connect specific flight, car rental, and hotel information to your itinerary. Plus, transportation options have been expanded to include your own car, train and bus. If you are a frequent traveler, you can save trip templates for future use.
Version 11 also ties in the Agendus Over-The-Air (OTA) capability to travel so that you can retrieve weather information for your destination with one tap from the Edit Trip screen. The addition of Time Zone support is great for travel or when dealing with clients in other parts of the country.
Agendus for Palm OS Professional Edition, Version 11 is available with a free trial and can be purchased for $39.95 USD. For information on upgrade options, visit iambic's site.
Article Comments
(29 comments)
The following comments are owned by whoever posted them. PalmInfocenter is not responsible for them in any way.
Please Login or register here to add your comments.