Pimlico Releases DateBk6
Monday, September 11, 2006 4:02:43 PM
Pimlico Software has released DateBk6 for Palm OS devices. DateBk6 is an advanced calendar application that brings a wealth of functionality and features not even present in most desktop calendar programs. The program is full compatible and uses the same databases as the built in Palm OS programs but offers numerous additional features including colors, fonts, icons, custom alarms, templates, time zones, additional views and much more.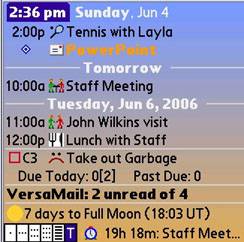 DateBk6 is a superset of the built-in datebook application, meaning that all the functionality available in that application is also available in DateBk6. DateBk6 has a new Today View which displays upcoming appointments, ToDo's and email (VersaMail). It can also display phases of the moon and supports a third party plug-in architecture which already includes 4Cast's weatherforcast application. DateBk6 also has an enhanced Alarm Manager which displays the next 50 upcoming alarms and also has the ability to silence all alarms until a specific time and Date.
Other new features include:
Today Screen with multiple display options including ability to create and edit new appointments and ToDO's and check them off without leaving that screen. Also optionally displays status of VersaMail, phases of the moon, next upcoming alarm and has options to create an alternate or two-color gradient background. Tap on Appt./ToDo to bring up Details, Tap&Hold to go to Day View with item selected. Tap&Hold on date line to go to that day in the day view. Tap on VersaMail line to launch VersaMail.
Handles location and birthday fields on newer PalmOne devices
Alarm Manager dialog replaces Next Alarm function - now shows up to 50 future alarms with ability to go directly to that event, also suppress alarm sound until a specific time and displays Days/Hrs/Mins. to next alarm. Also implements a special tag in an event which silences all Datebk alarms while that event is in progress
Todo Sort - allows ToDo's to be sorted on the basis of up to 11 criteria in either ascending/descending order and also to suppress the display of ToDo's based upon those criteria. Custom ToDo Sorting now applies to both integrated display and the SplitScreen display
Monthly View has a text option to display text of appointments on hi-rez screens (tight, but quite usable, esp. if screen supports landscape mode).
Context-sensitive popup lists for appointments and ToDo's are now completely user-definable and allow selection of up to 30 different options in any position. Setting the list empty disables the Tap&Hold and setting it to just one item, invokes that item directly.
Set/Adjust Date/Time of multiple items in List View - allows you to change the date and/or time of appointments or ToDo's to either a fixed date/time or adjust them by an offset, forwards or backwards.
Saved Views can now have a repeat attribute, start date and independent start/end times. This allows saved views to be automatically triggered and exited at any time of the day and also to follow a repeat specification like repeat events. This replaces the prior, more limited feature of automatically hiding and displaying categories (which has now been removed since it is redundant).
Adds Urgency attribute to ToDo's which can be used to implement Franklin Covey style prioritization. Urgency is supported in the ToDo sorting and displayed in the Day, List and Today Views.
DateBk6 runs on all Palm OS Devices running OS 3.5 or later. It comes with a 45-day free trial and new purchases are sold at $27.95 USD. A $12.95 upgrade price is available for users who have previously purchased DateBk3/4/5. Proceeds from this product go towards wildlife conservation and the Dewar's Gorilla Haven project in the North Georgia Mountains
Article Comments
(20 comments)
The following comments are owned by whoever posted them. PalmInfocenter is not responsible for them in any way.
Please Login or register here to add your comments.