StyleTap Platform Version 1.0 Released
Tuesday, October 31, 2006 11:24:10 AM
StyleTap Platform Version 1.0 is now available. StyleTap is a Palm OS emulator that allows users to run thousands of Palm OS applications without changes on Windows Mobile Pocket PC PDAs and phones. The company also announced plans for future released on the Symbian and Microsoft Smartphone platforms.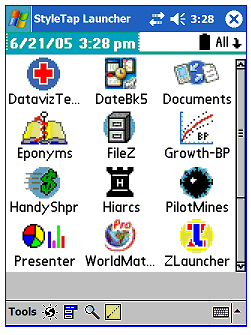 The StyleTap software includes everything necessary to run most applications and games written for any version of Palm OS (including version 5 applications that use ARMlets). It supports virtually all Windows Mobile Pocket PC devices, including phones with square screens (like the popular Palm Treo 700 series) and PDAs with high-resolution VGA screens, in portrait or landscape mode. Programs run at full speed, even animated games and multimedia applications. Network applications work great through WiFi, serial or USB connections. Infrared (IR) and Bluetooth communications are also supported. You can even cut and paste between Palm OS-based applications and native Windows Mobile-based applications on the same handheld device.
Applications written for Palm OS run, unmodified, on StyleTap Platform. If they wish, application developers can extend programs that are fully compatible with Palm OS by using StyleTap APIs that optimize execution speed and the user experience on Windows Mobile devices. Direct access to native libraries is available for specialized applications.
"Users from around the world purchased the preview version of StyleTap Platform, and we used their feedback to make version 1.0 faster and even more robust and capable," said Gregory Sokoloff, CEO and co-founder of StyleTap Inc. "Long-time Palm OS users are thrilled to continue running their favorite Palm OS applications on their new Windows Mobile devices, while existing Windows Mobile users are delighted with the vast library of additional applications that StyleTap Platform makes available to them."
StyleTap Platform can be downloaded and purchased online for US$49.95. A free 14-day trial is available and email and web-based support is included. Anyone who purchased a preview version can upgrade to version 1.0 at no charge.
The company has announced that a corporate version of StyleTap Platform will be eventually be released that will include support for barcode and RFID scanners and other hardware-specific capabilities. They company is also working on ports of the platform for Symbian OS devices and Windows Mobile for Smartphones.
Article Comments
(5 comments)
The following comments are owned by whoever posted them. PalmInfocenter is not responsible for them in any way.
Please Login or register here to add your comments.