Palm Releases the Treo 750 on Cingular
Sunday, January 7, 2007 6:20:44 PM

Palm Cingular Wireless today announced the Palm Treo 750 smartphone running on Cingular's 3G/UMTS network. The Treo 750 is a five-band world phone running Windows Mobile with Direct Push Technology offers Palm's exclusive usability improvements with powerful business features, including email, security, and web access on the go.
The Treo 750 combines the Palm experience of a multifunction mobile phone with email, messaging, web browsing, organization software and a robust application portfolio with Cingular's next-generation 3G network. Its new compact design features an internal antenna, soft-touch finish, and contoured edges to make it comfortable in the hand. The Treo 750 also has a full QWERTY keyboard for easy messaging, a 1.3-megapixel camera, a bright 240x240 touch screen and support for Bluetooth® stereo headsets. The built-in 60MB of user-available storage can be enhanced by using the miniSD slot to add memory cards of up to 2GB.
The Palm Experience on Windows Mobile
In addition to delivering a great phone with easy one-handed access to key features, Palm offers a unique suite of software enhancements to Windows Mobile, including the following:
New messaging application, with the highly requested threaded chat view for text and MMS messages;
Today Screen enhancements, which feature the ability to "dial by name" with a few keystrokes on the keyboard, perform a web search directly from the Today Screen and perform one-touch dialing with personalized photo speed dials;
Ability to manage a call directly from the Today Screen and stay on top of voicemail with on-screen, VCR-like icons, such as rewind, delete and fast-forward controls for easy navigation; and
Capability to ignore a call and quickly send a text message such as "In a meeting" or "Can't talk right now" by selecting the "Ignore with text" option from the incoming call screen.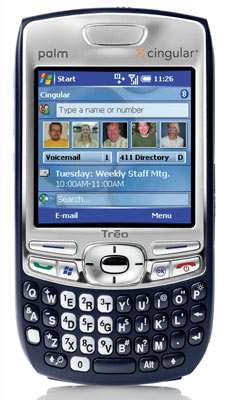 With Windows Mobile 5.0 Pocket PC Phone Edition, users get a desktoplike experience on their Treo 750, including access to mobile versions of Windows Media Player 10, Internet Explorer, and Outlook applications in addition to the ability to view and edit Microsoft Word and Excel files and view PowerPoint and PDF files. The Messaging and Security Feature Pack (MSFP) is available out of the box with the Treo 750 and includes Direct Push Technology, which gives users connected to a Microsoft Exchange Server fast, automatic wireless updates of their email, calendar items, contacts and tasks. It provides added security features for IT administrators, such as over-the-air password policy enforcement and remote wipe for lost or stolen devices. MSFP also gives users over-the-air lookup of a company's Global Address List (GAL), providing employees with quick access to colleagues' email and contact information. The Treo 750 offers mobile professionals other corporate email options, including streamlined access to Microsoft Exchange or Domino/Notes using Good Mobile Messaging or personal email with Cingular Xpress Mail.
"Designed with the business customer in mind, the Treo 750 brings together the speed of Cingular's BroadbandConnect service and broad solutions portfolio with Palm's hallmark ease of use and functionality on top of the familiar Windows Mobile 5.0 operating system," said Michael Woodward, executive director, mobile professional solutions, for Cingular Wireless. "The new Treo 750 will deliver that extra edge that all customers are looking for to take their business to the next level, whether they are on the other side of town, across the country or halfway around the world."
UMTS
Cingular's UMTS-based technology natively supports simultaneous voice and data, allowing users to download email or browse the web while making a phone call or checking voicemail. Cingular's 3G service is available currently in more than 160 major metropolitan areas. Outside of Cingular's 3G coverage area, users can seamlessly connect with Cingular's nationwide EDGE wireless data network.
HSDPA Upgrade
The Palm Treo 750 initially will be enabled for UMTS with a free upgrade, scheduled to be available later in 2007, to Cingular's supercharged HSDPA technology. UMTS/HSDPA is a global standard and natural 3G evolutionary path for GSM providers with 142 UMTS networks in 61 countries currently available.
Pricing and Availability
The Treo 750 will be available Jan. 8 for consumers and businesses at Cingular Wireless retail stores, online at Cingular.com and through Cingular's B2B sales organization. It will be available for $399.99 with a two-year contract and mail-in rebate.
A variety of monthly data plans will be available, including unlimited plans starting as low as $39.99/month. The Treo 750 joins the recently announced Treo 680 in Cingular's product portfolio.
Article Comments
(27 comments)
The following comments are owned by whoever posted them. PalmInfocenter is not responsible for them in any way.
Please Login or register here to add your comments.