Palm Releases New GPS Navigator SmartPhone Edition 3
Thursday, February 8, 2007 9:24:06 PM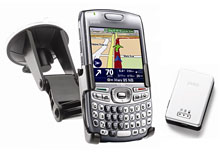 Palm has updated their online store listings with the newest addition to their line of superb GPS Navigator kits. Supporting the full line of both Palm OS and Windows Mobile Treos--650, 680, 700p, 700w, 700wx and 750, the new GPS Navigator SmartPhone Edition 3 package ships with an updated version of the TomTom Navigator 6 software, as the earlier 6.01 version reviewed here only supports the Treo 650, 700p, 700w and 700wx. This new bundle will presumably also ship with the latest 2006 TomTom maps reviewed here.
Palm provides few details of the new bundle other than the fact that it still ships with a pre-loaded 1gb miniSD card with a supplied adapter. Seeing as how the only Treo curernly supporting miniSD is the 750, this move might be a harbinger of allfuture Palm devices moving to the miniSD standard. Fortunately Palm is still providing a USB SD reader in the box along with the same accessory bundle as before. The Bluetooth GPS receiver appears unchanged as well.
Palm has posted the Getting Started & "Read This First" PDFs of the new GPS bundle here.
In the only hardware change in the bundle, Palm has altered the design of the previously sturdy but bulky mounting cradle. The new cradle is a smaller, custom designed version specifically for the Treo formfactor.
The new GPS Navigator 3 kit is available for Palm for $299 plus shipping. The rebate currently offered for the older 2nd-generation kit is not valid for this new product.
Palm has just released an update to the previous GPS Navigator 2 kit to add compatibility for owners of the newer Treo 680 and 750 smartphones. With the release of this update, the discounted Navigator 2 is definitely the smart choice for Treo users looking for a GPS bargain. Palm's GPS product support page is now giving a link to TomTom's online 2006 map upgrade site, offering a free (just pay shipping costs) DVD of the updated 2006 maps to TomTom6 customers.
Article Comments
(9 comments)
The following comments are owned by whoever posted them. PalmInfocenter is not responsible for them in any way.
Please Login or register here to add your comments.