Palm Launches MyPalm Beta Site
Wednesday, May 9, 2007 12:00:01 AM
Concurrent with today's Treo 755p announcement, Palm has launched the beta version of their new MyPalm portal and Treo owner resource site. The MyPalm program is designed to assist experienced and novice users alike in maximizing the capabilities of their Treo smartphones.
The most surprising (and unexpected) perk in this program is the 24/7 assistance hotline for reigstered users of this new program. Palm claims that this service is completely free. Additionally, this member-exclusive hotline does not appear to be related in any way to the free 90 days of complimentary telephone assistance that Palm has been bundling with recent Treo devices.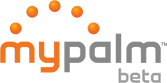 Palm touts the following benefits from signing up for the program:
Free 24/7 members-only phone assistance
Wireless delivery of software and services
Alerts and updates about the software and accessories you own
Insider tips and "how to's"
A personal MyPalm account and homepage
Exclusive offers and more
Yet another gracious extra courtesey of Palm is a free copy (apparently a special full version for this promotion) of Astraware's award-winning Sudoku game. This free title, assuming Palm is indeed giving away the full version in its entirety, represents a nearly $20 savings from purchasing the game at full retail price. This addictive little game is no stranger to Palm promotional efforts, having appeared as part of the Circuit City-exclusive retail Tungsten E2 Essential Pack last year.
Since the service is still in beta, some quirks and bugs are expected; my initial registration and request for the free Sudoku game has not yet been processed by the system. Since Palm only "pushes" download links for this game via SMS messages sent to users' Treos, users are unable to download the program and install it at their own leisure.
Another component of the program seems to be a new icon featuring prominent Palm branding. This new "Designed for Palm Products" stamp of approval claims, in Palm's own words, to deliver "the best possible software experience". The certified and Palm-approved programs will "...integrate seamelessly with your Treo smartphone's built-in features, including the 5-way nav." So far the a number of pieces of software available for purchae on the MyPalm online store already bear this mark of approval (including the aforementioned Sudoku).
PIC will continue to monitor this surprisingly valuable and user-oriented help portal and report on any content changes or if Palm decides to charge for the service once it concludes the beta-testing period.
Article Comments
(9 comments)
The following comments are owned by whoever posted them. PalmInfocenter is not responsible for them in any way.
Please Login or register here to add your comments.