Palm Sells 25% Stake, Announces New Board Members
Monday, June 4, 2007 8:39:22 AM

Palm, Inc., today announced a strategic relationship with the private-equity firm Elevation Partners and a recapitalization plan that will position Palm to lead the next phase of the smartphone and mobile-computing markets. In short, approximately 1/4 of Palm is being sold to Elevation Partners, a private equity firm led by former Apple CFO Fred Anderson, Investment Executives and Bono lead singer of U2.
Elevation will invest $325 million in Palm as part a deal intended to reorganize and rejuvenate Palm. Palm plans to these proceeds along with existing cash and $400 million of new debt to finance the cash distribution.
Palm has also announced major changes to its Board of directors with long time Chairman Eric Benhamou stepping down. Jon Rubinstein, former senior vice president of hardware engineering and head of the iPod division at Apple, is joining Palm as executive chairman of the board.
Fred Anderson and Roger McNamee, managing directors and co-founders of Elevation, will join Palm's board of directors upon closing of the transaction. Rubinstein, Anderson, and McNamee will replace Eric Benhamou and D. Scott Mercer, who will resign from Palm's board of directors at that time. The total number of directors on the board will be increased from eight to nine in connection with the transaction.
"As a result of this transaction, we will strengthen the Palm leadership team and create a more effective capital structure, which puts us in a great position to attract new talent, significantly strengthen our execution capabilities, and deliver long-term shareholder value," said Ed Colligan, Palm president and chief executive officer.
Colligan continued: "Jon Rubinstein is one of the top engineering executives in Silicon Valley, and he will lead our product-development efforts. As a significant new investor, Elevation brings onboard unique partners and relationships, plus a long investment horizon. For shareholders, the recapitalization provides an immediate return on their investments and our shareholders will retain their ability to participate in the company's success and future growth."

"This is by far the largest investment that Elevation has ever made, which reflects our enthusiasm for Palm and its opportunity. This investment fits perfectly with Elevation's investment strategy of partnering with great management teams to transform businesses in industries with dynamic technology change," said Roger McNamee. "We see Palm as uniquely positioned to deliver the integrated software and hardware solutions that will drive the next generation of mobile computing."
Jon Rubinstein added, "I have tremendous respect for Ed Colligan, Jeff Hawkins and their team, and I am thrilled by the prospect of helping Palm deliver innovative products capable of transforming the mobile-device market. Approximately 1 billion cell phones are sold each year, and mobile computing is a category with enormous potential. This is a company with an impressive history of introducing game-changing products -- it pioneered the smartphone -- and I intend to help extend that legacy."
Under the terms of the recapitalization plan, Elevation Partners will purchase $325 million of a new series of convertible preferred stock. The conversion price will be $8.50 per share, which represents a premium of approximately 16 percent to the implied post-distribution price over the 10 trading days ended June 1, 2007, excluding the $9 per share cash distribution. Upon completion of the transaction, Elevation will own approximately 25 percent of Palm's outstanding common stock on an as-converted and diluted basis, based on the number of shares of common stock outstanding as of March 30, 2007.
The company has secured commitments for $400 million of new debt and a $40 million revolving credit facility which is not expected to be drawn at closing. JPMorgan and Morgan Stanley will be joint bookrunners for these facilities.
Palm intends to use the proceeds from the sale of the preferred stock, existing cash and the proceeds from the $400 million of new debt to fund the cash distribution. The amount of total proceeds to be distributed to shareholders is estimated to be approximately $940 million. The distribution is expected to be treated as a return of capital for most shareholders. Elevation will not be eligible to participate in the cash distribution.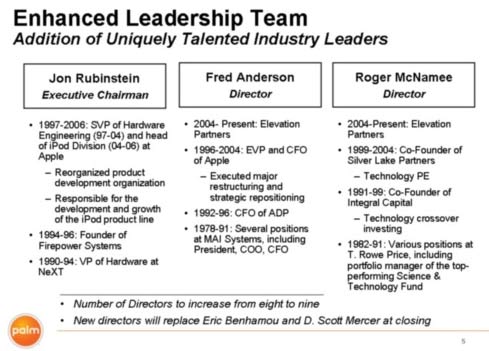 The distribution represents more than one-half of Palm's current market capitalization and enables existing equity holders to retain nearly three-quarters of the post-transaction equity on a fully diluted basis. The company expects to have more than $300 million of cash on the balance sheet after the distribution.
The recapitalization is expected to close in the third quarter of the calendar year and is subject to shareholder approval, customary regulatory approvals including clearance under the Hart-Scott-Rodino Antitrust Improvements Act, and other customary closing conditions. A definitive purchase agreement has been executed. The board of directors of Palm has unanimously approved the purchase agreement.
Article Comments
(111 comments)
The following comments are owned by whoever posted them. PalmInfocenter is not responsible for them in any way.
Please Login or register here to add your comments.

Only the first 50 comments are displayed within the article.
Click here for the full story discussion page...