Initial Acceeca PDA32 Reviews Posted
Friday, July 16, 2010 11:21:07 AM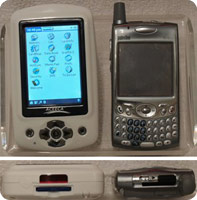 After months of delays, the long-awaited (for some) Aceeca PDA32 appears to finally be a reality. Tam Hanna of TamsPalm fame has already begun posting a detailed multi-part review of a pre-production version of the device.
Aside from a brief first impressions post, Tam's first area of coverage and second relates to that physical dimensions of the PDA32. There's simply no avoiding the fact that this is a very large, utilitarian device. Utilizing a variety of comparable tech gadgets new and old alike, Tam has given us a very good idea of the PDA32's girth. According to Tam, the Nokia N900 smartphone is the only device that even comes close to matching the PDA32's dimensions and it far outclasses it in hardware and software capabilities. Other devices often criticized for their size, such as the nearly six-year old Treo 650, still end being distressingly thinner than the PDA32. I was expecting a chunky device with a rather bland, staid appearance but was in no way prepared for the PDA32 to be so much fatter than any other Palm OS device!
The closest competitor to the PDA32, from a specification and overall size standpoint, as well as a Palm OS enthusiast standpoint, are Palm's TX and T5 handhelds. These devices match the basic width, height, and screen resolution of the PDA32 but easily best it in thickness and screen size, not to mention aesthetics.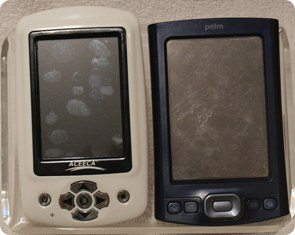 Even the decade-old Palm IIIc, Palm's first color handheld, is thinner than the PDA32 and roughly equal in all other measurements. Again, it's important to keep in mind that this is a semi-ruggedized handheld intended for a niche market and rather specific vertical applications. Aceeca has designed the device with durability and battery life in mind, with the massive 2,600 mAh battery a throwback to the days when Palm OS usage could be measured in days instead of hours. The most recent Palm OS 5 battery champs, the Tungsten C and Tapwave Zodiac, had 1500mAh and 1540mAh internal batteries, respectively. No word as of yet on how power-thrifty the 400Mhz Samsung S3C2440 CPU used in the PDA32 is or how it performs, but it's very likely that it operates much more efficiently than the older Intel Xscale and Motorola MX1 ARM9 CPUs.
On the positive side, Tam does state that the PDA32 is "insanely ergonomical" and that it is one of the most comfortable handhelds he has ever had the pleasure of using. He also no noticed no usability problems relating to the size of the device and praised the tactile feedback of the device's buttons.
A few additional details about the PDA32 can be gleaned from Tam's enlarged comparison photos, which are thankfully very high-resolution.
The PDA32's touchscreen appears to be the standard recessed design used on every Palm model up through the Treo 800w. The default Palm OS Garnet launcher and icons have been modified a bit from what we have traditionally been accustomed to from Palm Inc. since they began modifying these apps for the Tungsten T3 in 2003. "Contacts" is still "Address", "Calendar" is still "Date Book" and "Memos" is still "Memo Pad". The icons have apparently been given a minor smoothing and cosmetic update. The version of Garnet on the PDA32 has not yet been fully specified but it looks to contain a barebones OS install with nothing in the way of trialware or bundled software in ROM. Graffiti 2's help screen is fully present, unfortunately, so Graffiti 1 fans will likely best be served with either an older piece of Palm hardware or a new Android-based device courtesy of yesterday's news. Finally, the status bar on the bottom of the screen has been rearranged considerably from the Palm Inc. version, as seen in Tungsten T3, T5, TX and LifeDrive. It appears to lack the alert exclamation point icon, the wi-fi icon (perhaps since wi-fi is optional on the PDA32), the onscreen Graffiti toggle, and the screen rotate button.
Article Comments
(11 comments)
The following comments are owned by whoever posted them. PalmInfocenter is not responsible for them in any way.
Please Login or register here to add your comments.