HP Exec Promises "Great Things" for webOS
Wednesday, September 15, 2010 10:08:41 AM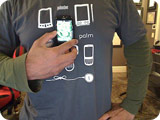 HP's Rahul Sood has become something of a WebOS + "cool stuff" evangelist as of late, vocally and enthusiastically promoting the pending fruits from the collaborative efforts between HP and Palm. In his latest personal blog post, "This is not a test...", he clarifies the skewed speculation regarding some of his recent palm hyping Tweets and, most interestingly, reveals a few possible tidbits about the time line we are facing for new WebOS-powered hardware.
In short, Mr. Sood promises a variety of new hardware and form-factors over the next twelve months, some coming sooner than others. He asserts that HP & Palm's window of opportunity has not closed and they can easily retake lost ground with enough quality product and innovations. He states that even the WebOS defectors, many likely jumping ship to Android and iOS after the one-year release of the original Sprint Pre, "…will be back once they see the breadth of product coming out of HP in the future."
He concludes his rather lengthy blog post with a summary of his most pertinent points:
Once again I will summarize what I said above;

HP Palm is working on both smartphones and other web-connected devices.
HP Palm is committed to delivering webOS on a wide range of devices.
I don't believe the "window of opportunity" ever really closes in this business. As long as there's innovation, there's always a window in.
If you're a developer, why not take a day to port your game over to Palm for some additional gravy and a chance to win some big cash?
Verizon & AT&T 1.4.5 FTW!
Until a press release is issued, we can't talk about it.
Stay tuned, and thanks for the patience and support...and thanks for keeping the candle lit!
Article Comments
(48 comments)
The following comments are owned by whoever posted them. PalmInfocenter is not responsible for them in any way.
Please Login or register here to add your comments.