Palm Pre 2 Details Outed by SFR
Tuesday, October 12, 2010 10:08:35 AM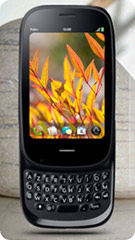 What started out as a trickle of unsubstantiated leaksdivulging details on the upcoming "Pre 2" on their website. Unsurprisingly, the page has now been pulled by SFR.
In a nutshell, the device's specifications line up to be exactly what was expected, with the existing Pre Plus receiving much-needed spec bump. The CPU is now 1GHz, with the TI OMAP 3630 replacing the current 3430. RAM remains unchanged from the Pre Plus' 512MB. Interestingly, while the form factor remains unchanged, a "flatter screen" with a "more refined design" is promised. This will presumably result in a glass screen to replace the previous plastic design.
Additional details courtesy of sharp-eyed PreCentral readers are the removal of the wobbly microUSB port cover and a conventional exposed port in its place. Furthermore, the widespread plastic cracking concerns appear to have been alleviated due to a matted edge finish.
On the software side, WebOS 2.0 is a go at launch, along with the promise from SFR that the sluggish boot time of WebOS 1.x has improved upon. The usual battery life and performance improvements are promised along with the intriguing possibility of push integration, though reportedly only for Facebook at this point in time.
On a final note, the "Roadrunner" codename tossed around in the past has indeed been confirmed. No additional details such as pricing or launch date were revealed by SFR, though a near-simultaneous launch on Verizon cannot be ruled out, per the previous rumors.
Leave a comment...

Click on the
Start New Comment button
below to begin a discussion.
You must be
registered
and
logged in
to add comments.