Palm Q4 FY08 Conference Call Highlights
Thursday, June 26, 2008 3:32:45 PM

Palm Inc. announced their fourth consecutive quarterly loss today. The company posted a fourth quarter loss of $43.4 million. In its conference call Palm blamed the loss on lower average margins, its continued transition and declining sales of its aging Windows Mobile product line. All the news was not negative and increasing Centro momentum drove significant gains in market share and record smartphone sell through for Palm. The company also announced it will be refreshing its entire Windows Mobile line utilizing Microsoft's latest offerings over the next few months.
Palm CEO Ed Colligan started off the call talking about the continuing transformation of the company. He remarked that while Palm has gone through another difficult quarter financially, he has "never felt more enthusiastic about our product pipeline and ability to get back on the right track."
He went on to say that strong sales of the Palm Centro were driving the record smartphone sell through. Palm sold 968,000 smartphones over the quarter up 19% from the previous quarter. However, the lower average selling price and slimmer margins on the Centro combined with slowing Windows Mobile smartphone and handheld sales, resulted in reduced revenue of $296 million.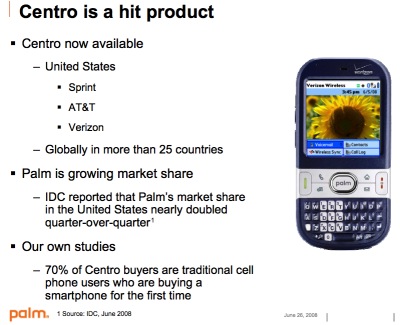 The usual round of praise was given to Palm's restructuring efforts. Ed highlighted two recent major hires to the Palm development team. Mike Abbot comes from Microsoft where he was a key architect of the team developing .net services. He is the new SVP of Application Software & Services and is tasked with driving integration between network services and on-device applications for a more compelling web experience. Way Ting comes from Silicon Graphics where he spent several years developing SG's core OS layers. As the new SVP of System Software he is tasked with insuring the Palm's core OS elements are world-class and are delivered on time.
During the quarter Palm's revenue mix was 90% smartphones and 10% handhelds. 83% of revenue was from the US and 17% international. Revenue was $296.2 million with a 25.2% Gross Margin. 913,000 smartphones were shipped on 958k sell-trhough with an average selling price of $288. Handheld revenue came in at $30.6 million on 159,000 units shipped with 185k unit sell-through. Handheld sales have been steadily declining for years now and were down 20% from the last quarter.
New Windows Mobile Products
Numerous mentions were made to Palms aging Windows Mobile line. Colligan announced some more details during the call stating that the whole Windows Mobile line would be "rebuilt" over the next few months and through the end of the year. Colligan said the new products will deliver a number of key advancements including 3G wireless radios, integrated WiFi and GPS capabilities in a "fantastic design."
When asked later in the Q&A session about possible carrier exclusives on the new WIndows Mobile introductions Colligan stated that in general the new products will be widely available out the gate. As opposed to the usual carrier exclusives on new introductions in the past, he said these will not be exclusive to any region at launch.
The latest rumors and leaks have shown two new designs in the pipeline. The Treo 800w is a CDMA unit, expected to be launched on Sprint in the US possibly as soon as July 13th. Another sleeker GSM flavored model likely called the Treo 850 has been shown sporting a slimmer profile and more Centro like design.
Update on Palm OS Nova
Colligan also touched on the new Palm system software which has been ongoing for some time now. He again asserted that the new OS, code named Nova, will restore Palm's design and innovation leadership position. Again, very little specific detail other than the usual enthusiastic adjectives of positive optimism were given. Colligan restated his refrain that the new software combined with the new "game changing hardware" designed for it will usher in a "new era for Palm."
When pressed for more specify on the timing and potential for delays with the new OS Colligan would only reiterate that Palm plans to wrap up work on the new system software by the end of this calendar year with new products based on it debuting in early 2009. He also made reference that there would be some sort of developer announcement or further detailing around that time.
The following audio clip is from Colligan's response about what milestones can we expect to track progress on the next generation operating system.
Article Comments
(46 comments)
The following comments are owned by whoever posted them. PalmInfocenter is not responsible for them in any way.
Please Login or register here to add your comments.