Palm Pre Post Event Impressions
Thursday, January 8, 2009 1:58:11 PM
Palm promised the world some "new-ness" today in Vegas and they certainly did not disappoint. Alongside Palm's revolutionary new WebOS, Ed Colligan and Jon Rubinstein showcased Palm's fantasntic new smartphone designed to run the new operating system. While we have not yet had any hands-on time with the device, Ryan and I were seated on the 2nd row during the presentation and got a very good look at the unit.
Stylistically, the device has smoothly rounded corners reminiscent of some of the earlier HTC smartphones. It basically mimics the Treo Pro's design aesthetic, but has a much less "busy" front bezel. Most of the hard buttons have been removed, with the exception of a single button located underneath the screen. Not much was said about this feature but it's presumably some kind of scroll wheel analogous to what is found on the HTC G1 or the BlackBerry Trackball. The traditional Palm ring/mute switch is thankfully present, and the power button is a dual-function design similar to that found on the Treo Pro.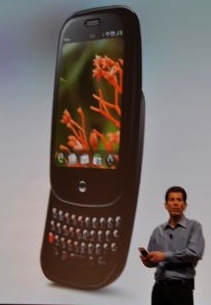 The device appears to have a slight curve in its lower body. Again, it's reminiscent of the HTC G1 in this aspect. The major surprise was the confirmation of the slide-down keyboard. It was glossy black with the traditional Palm orange highlights. The keyboard appears to be a bit wider than the conventional Palm Treo keyboard and the "smile" shape is retained; it is, however, somewhat less pronounced in its "smile" and the key spacing actually appears a bit wider than my Treo 755p I was using for comparison purposes.
Moving around to the rest of the device, a 3.5mm headphone jack is thankfully present up top, continuing a positive trend begun with last year's Treo Pro. A micro-USB port is found on the right-hand side In what is a Palm first since the days of the LifeDrive & Tungsten T5's "Drive Mode", the Treo Pre will fully support mass storage compliant for loading media onto the devices' 8GB of onboard flash. Unfortunately, no option for a microSDHC slot was mentioned or seen anywhere in the entire presentation. Perhaps Palm is borrowing too heavily from Apple's playbook with non-expandable storage?
The LCD measures 3.1" diagonally and has a resolution of 320x480, the same found on Palm's former large-screen Garnet devices such as the TX, T5, LifeDrive and T3. While we just found this out now, the screen supports 24-bit color, which is apparently a huge step above Palm's previous best of 18-bit on the Tungsten E2.
Below the screen is an interesting area that is part of the touchscreen area devoted to input. This zone seems inspired by the original Pilot's silkscreened Graffiti input area. It is where all of the finger pokes, jabs, swipes, and gestures take place. From the initial demos we saw, the multitouch aspects of WebOS work extremely well.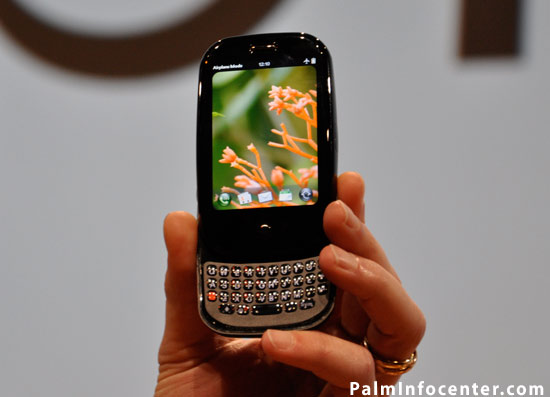 Palm pre - Click for Larger
Internally, not much said about the device's innards, aside from the fact that is fully GPS (no word on being unlocked, of course) capable, 802.11b/g is supported, a 3megapixel camera with "DSP functions" (Ed's words) and a LED flash assist light. Native multimedia support looks sharp, if nothing revolutionary. Certain a step above the crusty old media apps Bluetooth 2.1 + ADR +A2DP support is finally onboard, so no more Softick Audio Gateway headaches.
The device also has a built-in accelerometer and a light sensor. I was STUNNED to see no lag whatsoever during multitasking, app switching, or screen orientation changing. The CPU appears to be quite impressive, as it was mentioned to be the latest-gen TI Omap.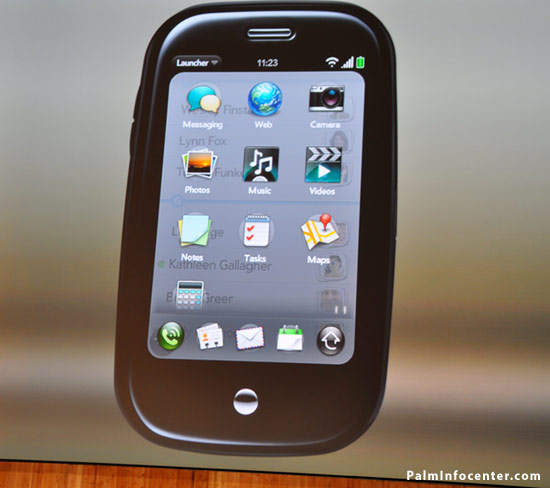 Palm pre - Click for Larger
As far as omissions, here is what I did notice as being notable.
No IR port
No stylus anywhere
Apparently no removable memory card slot
No mention of a Palm Desktop app. Everything is seemingly going to be done in the "cloud".
Zero mention of any nods to backwards compatibility with Garnet. Not even a mention of a PIM import tool for legacy Palm OS data, though I cannot imagine that Palm would risk leaving users with thirteen years of PIM data out in the cold.
A GSM/HSDPA version will follow sometime after its out on Sprint
No word on pricing of yet
Article Comments
(21 comments)
The following comments are owned by whoever posted them. PalmInfocenter is not responsible for them in any way.
Please Login or register here to add your comments.