Palm Pre Reports Users Daily Actions and Location
Wednesday, August 12, 2009 10:05:35 AM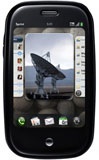 webOS tinkerer Joey Hess has discovered some concerning information about the Palm Pre. Allegedly, the Palm Pre smartphone and presumably any future webOS device, has been programmed to transmit daily detailed usage reports and information to a server controlled by Palm Inc. on a daily basis.
This information includes potentially identifiable details, including the users physical location (via specific GPS latitude and longitude coordinates) and a detailed event log that shows what applications were used on the device and for how long (including any unofficial third party apps).
Palm's own "Terms and Conditions" (.pdf link) statement, along with their Privacy policy, detail that Palm basically maintains it has the right to indefinitely collect, process, store and share this information. Users must accept this multipage collection of fine-print waivers and disclaimers in full during the initial device setup process before being able to utilize the device.
As of yet, there is no means to disable or opt-out of this seemingly excessive personal information capturing and reporting process. Mr. Hess reports that his first attempt to disable this background process was unsuccessful, however he recommends another approach and promises more research on the topic. At this time, the blocking method is rather technical and involves modifying some webOS system files. All of this data is sent to a sever with the address of: ps.palmws.com.
It should also be noted that the Pre also makes full daily device data backups to a Palm server. This action is configured to be active by default, and can be turned off via the Backup application preferences.
Thanks to PreCentral.net for the tip.
Article Comments
(30 comments)
The following comments are owned by whoever posted them. PalmInfocenter is not responsible for them in any way.
Please Login or register here to add your comments.