New HandEra Device Officially Announced
Sunday, April 1, 2001 7:26:05 AM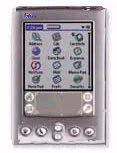 As has been rumored for months, HandEra officially released the details on its new handheld today. It runs a Dragonball VZ processor that has been overclocked to 45 MHz. The screen will be an amazing 640x640 resolution using a technique called pixel quadrupling. The built-in Palm apps won't be able to take advantage of this new resolution but HandEra has included several apps that will.
The company made its reputation by providing industry-standard hardware slots and the new device lives up to this legacy, and then some. In addition to the expected CompactFlash slot and the rumored MMC one, the new handheld will offer an SD slot, a PC Card slot, and in a stunning move, a SpringBoard slot.
The company did have to sacrifice size to add all these additional features. While the device is only 4.5 inches long by 3.1 inches wide, it is 4 inches deep, making it look rather brick-like. It weighs 1.5 pounds.
At the release the company's CEO and co-founder, Michael HandEra, commented on the device's unusual form-factor. "Yes, it is almost shaped like a cube but we heard Apple's Cube was a big hit so we decided to copy them."
He went on to say, "We spent a lot of time trying to come up with a name that would really express the love and excitement we fell towards this device. Finally, we found what we were looking for: HEQ-67432189654321."
When asked if the device will be able to use peripherals designed for previous versions of the company's products, Mr. HandEra responded, "Yeah right. In your dreams."
The company's co-founder, Karen TRGpro, speaks only her native Korean but we were able to translate her comments with Babblefish. She said, "Little bird jujitsu USB sea urchin." Well said, Ms. TRGpro, well said.
While the HEQ-67432189654321 was announced today, it won't be available until late November, 2002. When asked why they decided to announce the device so long before the release date, Mr. HandEra said, "We were going to announce at CeBit but I went to a beer hall the night before the show opened and woke up a couple of days ago in a gutter in Lipsig wearing a dress and clutching a rag dolly."
Article Comments
(23 comments)
The following comments are owned by whoever posted them. PalmInfocenter is not responsible for them in any way.
Please Login or register here to add your comments.

Comments Closed
This article is no longer accepting new comments.