Palm Bluetooth SD Card Delayed
Tuesday, November 13, 2001 8:57:30 AM
For many months, developers of non-memory SD devices have been waiting on the SD Association to to finally approve the SD Input/Output (SDIO) standard needed to make sure all SD devices would work together smoothly. The good news is that the standard was finally approved last week. The bad news is that it comes too late for Toshiba to get the Bluetooth SD card out this year for Palm Inc., as it had been promising since June.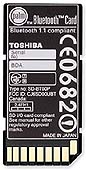 The card, somewhat larger than a postage stamp, will allow for short-range, wireless communication between Palm handhelds and other Bluetooth-enabled devices, such as mobile phones, laptops, printers, network hubs and other handhelds.
Unspecified Palm executives told Cnet yesterday that it wouldn't be available this year and a new estimated release date wasn't given. It is expected to cost $150.
Palm recently finished its Bluetooth SDK to allow application developers and hardware manufactures to incorporate this short-range wireless standard into their products. Palm's Bluetooth SDK includes add-on software for OS 4 to allow handhelds running it to use Bluetooth and the tools developers need to make products.
Palm has promised to release handlelds next year with Bluetooth built into them.
About Bluetooth
Bluetooth is a specification for a small form-factor, low-cost, radio connection providing links between mobile computers, mobile phones and other portable and handheld devices, and connectivity to the Internet. It has a range of about 30 feet. The Bluetooth Special Interest Group, made up of leaders in the telecommunications, computing, and network industries, is driving development of the technology and bringing it to market. The Bluetooth SIG includes promoter companies 3Com, Ericsson, IBM, Intel, Lucent, Microsoft, Motorola, Nokia, Palm and Toshiba, and more than 1,800 adopter companies.
Related Information:
Article Comments
(28 comments)
The following comments are owned by whoever posted them. PalmInfocenter is not responsible for them in any way.
Please Login or register here to add your comments.

Comments Closed
This article is no longer accepting new comments.