PalmSource: Giant Wrap-Up Article
Tuesday, February 12, 2002 10:56:17 AM
During any conference like last week's PalmSource, the large stories tend to get lots of attention while there are many small stories that don't get the attention they deserve. This even includes new product introductions, updates, and notes on upcoming products. While Ed Hardy was at the conference, he made notes on numerous small stories, all of which are collected together into this large article.
Palm OS 5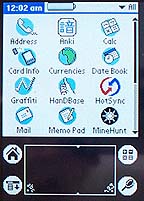 Of course, the top story of the PalmSource was OS 5. Texas Instruments was there showing a beta of the operating system running on its ARM-based processors on a test board. The user interface being shown off was almost indistinguishable from OS 4, though this was at 320 by 320 resolution. Even the HotSync process looks the same.
The processor TI was demonstrating at the Expo was running at 120 MHz but the final shipping version will run at 170 MHz. TI's Palm-ready offering also has a dedicated Digital Signal Processor (DSP), which is a secondary processor just for handling multimedia like MP3s, digital video, etc. Palm has already announced that TI will make the chips for its OS 5 handhelds, which should be out by fall.
Speaking of multimedia, PACE Soft Silicon was at the Expo showing off code that can be used on any ARM-based processor that will allow it to display streaming MPEG4 video and audio. The company was looking for licensees for the technology. Intel was demoing MPEG video playing on its processor, too.
Developers seemed pleased with the support they are getting from PalmSource to make sure their applications are ready for OS 5. The President of Active Corp. said a one-hour session with a PalmSource engineer helped him speed one of his applications up 50%.
Also, most developers seemed confident that OS 5 would allow them to build the applications they want to build, and there was some relief that they wouldn't have to immediately totally rewrite all their apps for the new ARM-based handhelds.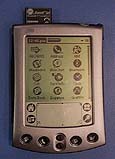 Hardware News
Motorola was demonstrating its 66 MHz DragonBall Super VZ processors, which it said were now available in sufficient quantities to be included in a handheld.
One disappointment at the show was that developers had been told they would be able to buy the Bluetooth SD card, which wasn't the case. However, there were plenty of them being demonstrated during keynotes and at the Expo. Palm reps at the show were telling attendees that it would be available in about two weeks for $120. The card sticks out surprisingly far from its slot (see photograph of fully inserted card.) It will come with a simple drawing app that will let two handhelds share the same whiteboard and a chat program, too.
According to one of the press people, an m515 was at PalmSource. A third-party developer had one and was showing it to a few attendees, off the record of course. According to the reporter who had seen it, the screen had a brightness adjustment and at full power was much brighter than an m505's. He said the guy who had it told him that, at max brightness, it has a shorter battery life than the m505's. Of course, lowering the brightness reduces the battery drain.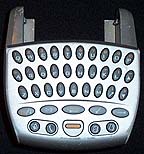 Samsung will be releasing a mini-keyboard for its I300 smartphone. It has been licenced from TT-Tech and is a modified version of the SnapNType. The image is of a prototype that has the standard SnapNType button labels; The final version won't use these. The keyboard will be available March 1 for $60.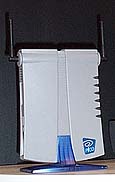 Pico Communications was demonstrating their PicoBlue Internet Access Point, which allows Bluetooth-enabled handhelds to connect to a network or the Internet. It has a range of up to 100 meters and supports up to 7 simultaneous users. It is available now for $500.
MARGI Systems announced that it will be releasing a version of Presenter-to-Go for the HandEra 330 and TRGpro on March 1.
Software News
DataViz has put out a free Bonus Add-On Kit for Documents to Go Professional. It includes a new app, Pics To Go, which lets users view GIF, JPEG, Bitmap, and PICT graphics directly on their handheld. The Add-On Kit also allows users to create, edit, and synchronize charts in Sheet To Go.
Cutting Edge Software released Quickoffice Conference Edition as a beta. This lets users work together on spreadsheets and documents in real-time using Palm OS based devices with a TCP/IP connection. It can also work between a handheld and a PC or laptop. Changes made on one device are immediately updated on all the devices participating in the conference.
Trust Digital LLC unveiled SecureCard, designed to encrypt data stored on an expansion memory card. It allows users the choice of encrypting a single files, multiple files, or the entire card. Trust Digital was also demonstrating PDASecure which can lock the entire handheld, applications and their associated databases, or individual records.
Electric Pocket introduced two new wireless messaging applications. The first, Mailer, is a POP3 email application that offers a multi-account email engine to let users get only the email messages they want. It is currently in open beta. The second, Pixer, lets users send annotated picture messages and photographs. It is $30. The company also introduced SmartInstall, which lets software distributors automate the installation and configuration of applications from SD/MMC cards. When the card is inserted, SmartInstall automatically launches and prompts the user with directions for installing the application.
Bachmann said it is coming out in March with a desktop client for FilePoint that will display a picture of the file structure on the handheld, allowing users to more easily organize their files.
Awards
Handheld Computing Magazine announced its annual Best Palm Powered Products Awards. Top honors went to the Sony Clié PEG-N760C as Best New Palm OS Device. Best Document Editor/Viewer went to WordSmith 2.1 while Best Office Suite went to Quickoffice.
Palm announced its Powered Up Award Winners. Best of the Best and Enterprise Solution went to ActiveECG from Active Corp. Best Productivity/Education Solution was CopyWrite from Revelation Computing. Best Entertainment and Leisure Solution was Handmark Scrabble and the Best Student Developer Solution was Ultimate Table Hockey by Bryant Lee.
Related Information:
Article Comments
(35 comments)
The following comments are owned by whoever posted them. PalmInfocenter is not responsible for them in any way.
Please Login or register here to add your comments.

Comments Closed
This article is no longer accepting new comments.