Palm OS Laptop Replacement Coming for Students
Monday, June 17, 2002 9:40:10 AM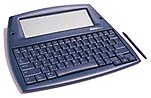 AlphaSmart has unveiled Dana, a portable device larger than a handheld and less expensive than a laptop, intended for students. Powered by Palm OS 4.1, Dana includes a full-size, integrated keyboard and a 560 by 160 pixel touch screen that is roughly 7.5 by 2.25 inches. It has 8 MB of memory and two SD/MMC slots. It will be sold to individuals for $400 and be available before this fall.
It will be sold to schools for $370 each, though there will be volume discounts.
The backlit, monochrome screen is 3.5 times wider than what's on the typical Palm OS handheld. The screen image can be rotated 90 degrees so it is 160 by 560. HandEra helped AlphaSmart with this larger screen.

Dana weighs two pounds. It is 12.4 inches wide, 9.3 inches deep and 1.9 inches thick. It is made of strong ABS polycarbonate plastic and has been designed to survive being mistreated. It comes with a rechargeable battery and an AC adapter. It can also run off three AA batteries.
It has a full-sized keyboard which can be configured as either QWERTY or Dvorak. Students can also use Graffiti, with the writing area appearing on either side of the screen for left - or right-handed users.
It has an infrared port and two USB ones and can be HotSynced like any other Palm OS model.
Dana comes with the standard Palm applications that have been resized for Dana's wide screen. It also comes with AlphaWord, a word processor with spell-checker and thesaurus that is compatible with Microsoft Word file format . This has been licenced from BlueNomad.
It also comes with PrintBoy from Bachmann Software, which provides direct printing from AlphaWord to IR or USB printers.
Also bundled with Dana is QuickOffice from Cutting Edge Software, which has a word processor and spreadsheet. These are special versions capable of using the screen in either its extra wide or extra tall configurations.
Other apps include powerOne Graph, FontBucket, CardPro, Palm Reader, ImagiMath, and ImagiProbe. Trial versions of popular Palm applications that have been reformatted for the wide screen are included on a CD-ROM
"AlphaSmart is focused on reducing the cost and complexity of computing for educators and students," said Manish Kothari, president of AlphaSmart. "Introduction of Dana helps further our goal of making it affordable and realistic to create a one-to-one ratio between students and computing devices that enhance learning."
The company is the developer of the AlphaSmart 3000, a low-cost, portable computer used by millions of students in the United States and throughout the world. it became a Palm OS licensee in August of last year.
"The introduction of AlphaSmart's Dana shows the potential for innovation with Palm OS," said David Nagel, chief executive officer of PalmSource. "The versatility of Palm OS, combined with AlphaSmart's education expertise, has enabled this breakthrough product that meets specific needs of the education market."
Thanks to Gilberto Abreu for the tip. -Ed
Related Information:
Article Comments
(157 comments)
The following comments are owned by whoever posted them. PalmInfocenter is not responsible for them in any way.
Please Login or register here to add your comments.

Comments Closed
This article is no longer accepting new comments.

Only the first 50 comments are displayed within the article.
Click here for the full story discussion page...