Rumor: Pictures and Details of Palm's Upcoming Smartphone
Friday, September 20, 2002 11:29:21 AM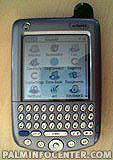 Yesterday, Todd Bradley, CEO of Palm's Solutions Group, said his company would be launching a smartphone on October 28. Bradley said it would be data-centric and use GPRS wireless networks. However, he gave few details about it.
A very reliable anonymous source has supplied much more information about this model, including some images. This device will have a 320 by 320 color screen and a built-in keyboard. Also, it will have a 4-way directional pad (a D-pad) with a Select button in the middle.
Handheld
Palm has added support for the D-pad to the built-in applications. Users can navigate through the Launcher with it and open apps and use it to look up and dial a phone number.
The D-pad may become standard feature on future Palm models. It is rumored that the company's other high-end model will also have a D-pad.
This is not an OS 5 model. It will run Palm OS 4.1 on a 33 MHz Dragonball processor and have 16 MB of RAM.
As mentioned earlier, it has a hi-res screen. According to the source, Palm appears to have used the hi-res API from Palm OS 5 on this model, in the same way Acer used it on the s50 and s60 models, which are also OS 4.1. This means apps written in the future to take advantage of OS 5's hi-res screen will also run on this model.
It has an SD/MMC slot on its lower-right side. There is an infrared port on the top. It uses Palm's Universal Connector and comes with a USB cradle. It also has a flip cover similar to the one on the i705.
The images were taken with a digital camera from a mobile phone so the quality isn't high. However, they are sufficient to show many of the features of the new device and show that it will be comparable in size to a Handspring Treo.
It comes with the standard Palm apps, of course, but also with a copy of Documents to Go, a world clock, an image displaying app, and others.
Wireless Access
Yesterday, Bradley said this model will be data-centric. This means it is primarily intended to be used as a wireless handheld, not a mobile phone. Nevertheless, it can be used to make phone calls through a headset. A microphone and speaker are not built in.
This smartphone uses GPRS/GSM wireless networks. GPRS offers 144 Kbps connections, though only under ideal conditions. GPRS is widely deployed in Europe and other parts of the world but is just getting off the ground in the U.S.
It comes with a browser called WebPro, which is not the same one as PalmSource announced earlier this week. That one requires Palm OS 5.
It also comes with an application called Mobile that can be used to dial the phone.
Nomenclature
It was rumored that this device would be named Veld; however, this is not the case. According to this source, it will be called the Palm Tungsten W, with the W presumably standing for "wireless".
Apparently, Palm considered naming it the i710, as some of the software on the prototypes calls it that.
Related Information:
Article Comments
(167 comments)
The following comments are owned by whoever posted them. PalmInfocenter is not responsible for them in any way.
Please Login or register here to add your comments.

Comments Closed
This article is no longer accepting new comments.

Only the first 50 comments are displayed within the article.
Click here for the full story discussion page...