HP Power 48 Calculator Emulator
Wednesday, April 9, 2003 5:54:34 PM
A Hewlett-Packard 48SX, 48GX, and now 49G calculator application has been released for high resolution devices. Power48 is a free, full featured Palm OS based HP 48 series calculator emulator. The app is now fully OS 5 compatible with an ARM native core.
The HP 48 series of graphic calculators are widely used by engineers, mathmeticians and students. According to developer Robert Hildinger, It provides a fairly complete emulation of the Saturn CPU upon which these calculators are based and is able to run a majority of the programs available for them.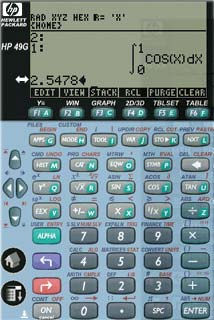 Power48 emulates one instance each of the 48SX, 48GX and 49G, and maintains complete and separate state information for each allowing the user to quickly switch between them. Additionally, the core emulation code has been almost completely rewritten and optimized for the Palm platform in an attempt to squeeze in every ounce of performance possible.
Power48 will run on all current Palm OS 5 devices, for the most accurate experience a 320 x 480 screen is recommended. It will also run on OS3.5 - 4.1 models with high resolution (320x320) screens.
Power48 is a free program distributed under the GPL, even though its freeware the developer welcomes donations to support future development. Power48 is also an open source project and is distributed in accordance with GNU General Public License.
Article Comments
(45 comments)
The following comments are owned by whoever posted them. PalmInfocenter is not responsible for them in any way.
Please Login or register here to add your comments.

Comments Closed
This article is no longer accepting new comments.