Sony PEG-N610C and PEG-S320 Revealed
Monday, June 25, 2001 3:48:00 PM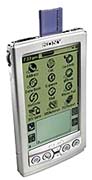 Sony has announced the N610C and S320. Neither one comes with the necessary hardware to play digital audio, though apparently Sony is going to release an audio adapter that can be added later that will give both these models the ability to play music.
The N610C appears to be much the same as the N710C, minus the audio playback, of course. It will cost $400, sports a 16-bit color screen, 33MHz Motorola Dragonball VZ processor, 8MB of RAM, and 4MB of flash memory. The big change is it will have Palm OS 4.0. SonyStyle shows it being available in silver and violet.
The S320 will come with a high-contrast, backlit, black-and white display. However, its screen is only 160 x 160, as compared to the 320 x 320 screen of the other model. It will also have OS 4.0, a 33MHz Motorola Dragonball VZ processor, 8MB of RAM, and 4MB of flash memory. It will cost $200.
The two new models are not the same size and shape. The N610C is the same as the N710C, 2.9 x 4.75 x .7 inches and 5.65 oz. The S320 is slightly smaller and lighter at 2.9 x 4.62 x .6 inches and weighs 4.27 oz. It is not yet known how this will affect peripherals.
Both models will still come with a Memory Stick expansion slot, lithium-ion rechargeable battery, PictureGear, gMovie player, and all the extra applications that come with the N710C. Both should be available in August.
An employee at a major electronics chain was sent the following information by their central headquarters:
Last month, Sony introduced the Clié (SON PEGN710C), a Palm-driven handheld with built-in audio and video capabilities. This month, Sony unveils two new versions of this versatile PC companion. Both models feature the Memory Sick expansion slot, PictureGear image viewer, gMovie video player, and extra applications that come standard with the PEGN710C. However, the digital audio option has been removed for customers who don't want to spend extra cash for the embedded MP3 player. It can be added to the new handhelds with the purchase of an audio adapter. The PEGN610C offers the choice of three different color casings. The PEGS320 comes with a high-contrast black-and white display for extra savings.
Thanks to David for some of this information. -Ed
Related Articles:
Article Comments
(137 comments)
The following comments are owned by whoever posted them. PalmInfocenter is not responsible for them in any way.
Please Login or register here to add your comments.

Comments Closed
This article is no longer accepting new comments.

Only the first 50 comments are displayed within the article.
Click here for the full story discussion page...