Toshiba Releases SD Bluetooth Card in Japan
Thursday, December 27, 2001 9:59:56 AM

The first SD input/output card has been released by Toshiba. It is the Bluetooth card that Palm Inc. has been demoing for several months. However, Toshiba, who actually developed it, has so far only released it in Japan and only with drivers for its own Genio handheld, which runs the Pocket PC OS.
Palm said last summer that this card would be out in the U.S. before the end of the year. However, the SD Association didn't finalize the SD I/O standard until early November, too late for Toshiba to get the device ready in time to make that deadline.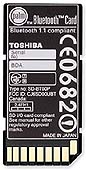 It's only reasonable that Toshiba should release the Bluetooth card first in its home country and with drivers for its own handheld. Unless any further delays come up, it does seem likely that Toshiba and Palm will release a U.S. version, possible as soon as the Consumer Electronics Show the second week of January.
In Japan, Toshiba began selling the card on December 20 for 19,800 Yen, which is roughly $150 US. When Palm announced the card last summer, it said it would sell for $150 when available here.
It supports Bluetooth ver 1.1 and can be used with a Bluetooth-enabled mobile phone.
Palm recently finished its Bluetooth SDK to allow developers to incorporate this short-range wireless standard into their products. This includes add-on software for OS 4 to allow handhelds running it to use Bluetooth peripherals. It is theoretically possible for someone to get the Bluetooth card now and use it with the add-on software, though it is currently only available to developers.
Palm has promised to release handlelds next year with Bluetooth built into them.
About Bluetooth
Bluetooth is a low-powered, short-range wireless network technology best suited for mobile devices, as they may not have enough power to support 802.11b signals. It creates a Personal Area Network (PAN) by directly connecting two devices together within a range of approximately 10 to 100 meters depending on power levels. It is also being used as a networking option for mobile devices.
Thanks to Eugene for the tip and translating the info from Japanese. -Ed
Related Information:
Article Comments
(44 comments)
The following comments are owned by whoever posted them. PalmInfocenter is not responsible for them in any way.
Please Login or register here to add your comments.

Comments Closed
This article is no longer accepting new comments.