Rumor: Info Leaked on Palm i705
Friday, January 18, 2002 12:11:28 PM
An anonymous source has leaked a great deal of information on Palm's soon-to-be-released wireless handheld, the i705. Much of the information that was released about this device when it received FCC approval last fall has been confirmed but there is also some additional information.
The primary feature of the i705 is that it offers always-on email. The user is notified as soon as a new email is received, even if the handheld is turned off. Also, it comes with AOL Instant Messenger and the i705 will notify the user when an instant message arrives, too.

The user has complete control of when the handheld's antenna is turned on and checking for new messages. It can be turned on or off manually or on a schedule, like from 9 am to 5 pm. The i705 can still be checking for messages even when the rest of the handheld is off. The user can also control how they are notified about messages.
Other instant messaging applications will work, like Yahoo's.
All emails are sent securely, both sending and receiving. This prevents messages from being intercepted.
It still uses the Web Clipping technology that first debuted with the Palm VII series. These are small applications, called PQAs for Palm Query Apps, that retrieve small bits of information from the Web, like a stock quote. This helps save bandwidth and is much faster than downloading a whole webpage.
Some users find this too limiting so the i705 will also allow regular Web browsing with a built-in browser. Reportedly this browser is weak but Palm plans to release a new one in February.
It uses the Cingular Interactive wireless network. The wireless plans include:
Basic - $10 per month - 50kb
Associate - $20 per month - 100kb
Executive Unlimited - $40 per month
Executive Unlimited w/ Annual subscription - $35 per month
The current cheapest unlimited plan available for the Palm VII series is $45, so this is a price reduction.
The i705 can only handle data. It isn't a smartphone and can't do voice communications.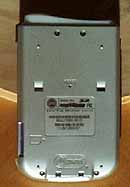 Hardware
The i705 has a 160 by 160 monochrome screen. The entire device is 4.7 by 3.1 by 0.6 inches. It weighs 5.9 ounces with the included flip cover. It has Palm's Universal Connector, which means it will be able to use many of the same peripherals as the m500 series and the m125.
The antenna is built into the body of the i705, so it isn't necessary to raise an antenna to use it. Because the antenna takes up most of the top of the handheld, the SD/MMC card slot is located on the lower right side of the handheld.
Internally, it has 8 MB of RAM and 4 MB of ROM. It runs a 33 Mhz Motorola Dragonball VZ processor.
Palm has said in the past that it will be releasing at least one model this year with built-in Bluetooth wireless networking. There was some speculation that this model would be it. This is not the case.
Software
The i705 runs Palm OS 4.1 and, of course, comes with all the standard Palm applications. For email, it includes MultiMail Deluxe and the MultiMail Deluxe Desktop Link. It also has the application that ties into the MyPalm Portal and MyPalm Update, which automatically searches for new versions of wireless PQA apps and downloads them.
In addition, it comes with Dataviz Documents to Go Professional, not the Standard edition, MGI PhotoSuite Mobile Edition, and the free applications Palm Reader and AOL Instant Messenger.
Price and Availability
The i705 will be announced and available for purchase on January 28. It will cost $450.
There will be some hardware bundles available, too. With a mini-keyboard, it will be $480, and with auto/AC/airline chargers it will be $500.
Accessories
The mini-keyboard mentioned earlier will sell for $60 by itself and is similar to the SnapNType for the m500 series.
Palm will also offer a Slim Leather Case for $25. This has credit and expansion card slots and uses a sliding rail to hold the handheld in. It will also offer a Leather Belt-Clip Case for $30 that also has slots for expansion cards.
This source has provided information in the past that has all been right on the money. -Ed
Related Information:
Article Comments
(208 comments)
The following comments are owned by whoever posted them. PalmInfocenter is not responsible for them in any way.
Please Login or register here to add your comments.

Comments Closed
This article is no longer accepting new comments.

Only the first 50 comments are displayed within the article.
Click here for the full story discussion page...