Screenshots from Palm OS 5
Tuesday, April 9, 2002 11:59:44 AM

PDAFrance has what is says are screenshots from Palm OS 5. The new OS supports up to 320 by 320 pixel screens and these shots show what some parts of the new operating system will look like at this size.
Update: According to ZDnet Japan, PalmSource's CEO David Nagel demonstrated this same GUI at PalmSource Forum Japan 2002 last week.
This isn't exactly what the GUI will look like for everyone. PalmSource has said that the user interface will allow themes and the licensees will be able to create their own new ones.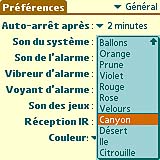 It should be noted that OS 5 supports up to 320 by 320 screens, not just 320 by 320 screens. While it is almost certain that all high-end OS 5 handhelds will have the 320 by 320 screen, there may be low-end models that still run at 160 by 160.
The primary feature of OS 5 can't be shown in a screenshot: support for ARM-based processors. It isn't locked into to chips from any single company and the OS has been demonstrated running on processors from Intel, Texas Instruments, Motorola, and others. Palm itself has chosen TI to power its OS 5 handhelds.
Despite the change to a new processor, OS 5 handhelds will still be able to run a large majority of current apps thanks to an emulator. According to Steve Sakoman, chief technology officer for PalmSource, about 80% of current apps should make the jump, which, according to him, is about the same number as made the switch to OS 4.
PalmSource has said it is on schedule to have OS 5 to its licencees in June. Palm Inc. has promised to have its first handheld running the new operating system, a wireless model, out by this fall.
Thanks to the numerous people who sent me tips on this. -Ed
Related Information:
Article Comments
(170 comments)
The following comments are owned by whoever posted them. PalmInfocenter is not responsible for them in any way.
Please Login or register here to add your comments.

Comments Closed
This article is no longer accepting new comments.

Only the first 50 comments are displayed within the article.
Click here for the full story discussion page...