Rumor: More Details on the Next-Gen Palm Handheld
Wednesday, July 24, 2002 9:38:04 AM
Several weeks ago, an image surfaced of what is supposed to be Palm Inc.'s first OS 5 handheld, called the Oslo. A few things are immediately obvious from this picture, like the fact that, instead of having just Up/Down buttons like on current handhelds, it has a complete directional controller. However, the picture doesn't tell the whole story. A couple of people who've had access to this device were willing to reveal a few more things about it.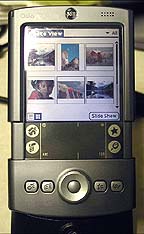 The Screen
There was a tremendous amount of debate when the image of the Oslo was first available on what its screen resolution will be. All the sources agree, it is a 320 by 320 screen.
Palm OS 5 has built-in support for hi-res screens and Palm announced at the PalmSource conference that it would begin to use them in some of its future models.
Bluetooth
Last year, Palm promised that at least one model it introduces this year will have built-in Bluetooth. It is fulfilling its promise with the Oslo.
In fact, one source went so far as to say that all future handhelds from Palm would have built-in Bluetooth. This is quite possible. OS 5 has support for Bluetooth and the hardware necessary has finally dropped in price to the point where it will hardly add anything to the cost of the handheld.
Processor
The Oslo runs the Texas Instruments OMAP1510, which runs at 175 MHz. This should be fast enough to show a noticeable increase in speed when running the vast majority of applications.
Palm's CEO Eric Benhamou said in early June that his company would be putting out three new models this fall. One would be a smartphone and another a sub-$100 model. But the third he hardly mentioned at all. When the Oslo picture first surfaced, some believed that it was the smartphone Benhamou said was coming. However, if it uses the OMAP1510, this is extremely unlikely. TI makes a processor specifically designed to power a smartphone, the OMAP710. If the Oslo was a smartphone, that's the processor that would be inside it. Finally, we know the Oslo won't be less than $100 so it seems likely it is the third model Benhamou mentioned but didn't elaborate on.
Memory
Getting information about unannounced products can be a difficult and frustrating process. Sometimes, not every bit of information can be learned. This why the amount of RAM the Oslo has remains unknown.
The Oslo doesn't have the constraints that earlier models had so it seems quite likely it will have more that 16 MB, especially considering that even some low-end models come with that much these days.
Like all of Palm's recent models, it has an SD/MMC slot for external storage.
Hardware
One of Oslo's most unusual features is that the entire bottom of the handheld can slide up or down. This allows it to be compact when being carried around. Later, when the Graffiti area is needed for text input, it can be expanded to its full size.
The Oslo is about 3 inches wide and 4.9 inches tall when fully extended. When retracted, it is 4 inches tall. It is roughly .75 inches thick.
Audio
The Oslo has a built-in speaker and Palm OS 5 has the ability to play CD-quality digital audio.
OS 5 also has the ability to record sound. However, it is not yet known whether the Oslo has an internal microphone.
Nomenclature
One interesting question in all of this is what the final name for this model will be. The handheld in the leaked image is clearly labeled "Oslo", but it isn't yet known whether this will be this model's final name of if it's for internal use. While many people will assume that its name will be some variant of Palm's current number system, the company trademarked several words in May: Tungsten, Zire, and Veld.
It seems unlikely that Palm would use these as actual product names but, if not, there seems little use in trademarking them. It may be a coincidence but Benhamou's announcement that Palm would be releasing three new models later this year came close to the time that these three words were trademarked.
This don't seem to be Palm covering its tracks by trademarking the code-names for its products as "Oslo" isn't trademarked.
Availability
None of the sources were able to confirm the rumored release date for Oslo, which is said to be around the beginning of September. This is also no currently no information on its price, though it is likely to be a high-end device.
This is all I was able to get. Hopefully more will be available later as the release date gets closer. -Ed
Related Information:
Article Comments
(222 comments)
The following comments are owned by whoever posted them. PalmInfocenter is not responsible for them in any way.
Please Login or register here to add your comments.

Comments Closed
This article is no longer accepting new comments.

Only the first 50 comments are displayed within the article.
Click here for the full story discussion page...