Palm Unveils the Tungsten T
Monday, October 28, 2002 12:01:45 AM

Palm, Inc. today introduced the Palm Tungsten T handheld. The Tungsten T handheld is the most compact Palm branded handheld on the market today. New features include: a collapsible graffiti slider design, one-handed 5-way Navigation, an ultrasharp, high resolution screen and integrated Bluetooth.
In addition Palm Inc has also announced the wireless GPRS Tungsten W.
"The Palm Tungsten T handheld is business and communications power personified in a smart, compact device," said Todd Bradley, president and chief executive officer of Palm Solutions. "It's about the data, not the desktop. We don't stuff unnecessary PC capabilities into a smaller box; we adapt technology to what matters most to people. With the Palm Tungsten T handheld, professionals can be productive wherever they are."
Command of Information
The breakthrough slider design, 5-way navigation and one-touch voice recording deliver ease of use. One-touch voice recording lets users easily capture and record voice memos, and later email them from their desktop computers.
The navigation and application buttons reside on the new "slider," which glides open when users need to input data using Palm's Graffiti(R) alphabet. For simply viewing and navigating information, which makes up approximately 90 percent of most handheld users' activities, the slider can remain closed, leaving the device in its most compact state most of the time.
The new one-handed 5-way navigator activates up, down, left and right, and select. With the navigator, users can easily launch applications and view information. Classic Palm PIM (Personal Information Management) applications -- Date Book, Address Book, Note Pad and To Do List -- have been updated to take advantage of the 5-way navigation with functionality such as Quick Look Up, which lets users more efficiently find names and phone numbers.
Supercharged Applications
The first Palm branded handheld built with Palm OS(R) 5 and Texas Instruments' OMAP1510 processor, the Palm Tungsten T handheld delivers a new class of performance and power efficiency. Users can now enjoy faster interaction with data-intensive documents, and use Palm's new updated fonts for better viewing. The Palm Tungsten T handheld has the power to run rich multimedia features and software applications, such as short video clips, digital audio files or photos, and interactive games. In addition, the Palm Tungsten T handheld's easy-to-read, crisp color screen -- Palm's sharpest screen to date -- brings new definition to presentations, spreadsheets and images.
Wireless Communication
Built-in Bluetooth gives Palm Tungsten T handheld users the freedom to wirelessly access email and the Internet via compatible Bluetooth-enabled phones.(2) Palm Tungsten T handhelds also can communicate with other Bluetooth-enabled devices, such as printers, PCs or other handhelds. The Palm Tungsten T handheld includes a suite of phone drivers for the most popular Bluetooth phones on the market, so wirelessly connecting to a Bluetooth-enabled phone now becomes much easier than before.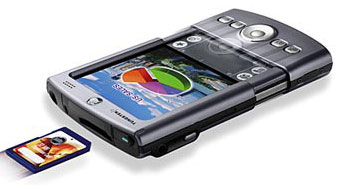 Built for Expansion
Users can customize and extend the capabilities of the Palm Tungsten T handheld with Palm's dual-expansion technology, which includes the Palm Expansion Slot for SD Cards, SDIO and MultiMediaCard media (postage-stamp-sized cards that allow users to access important information without sacrificing valuable memory space), and the Palm Universal Connector for hardware add-ons. Palm's dual-expansion technology enables users to back up their handhelds on the go; add new software, business applications, or memory; and attach peripherals, such as a keyboard, a GPS receiver, or a Microsoft PowerPoint presenter.
New Keyboard
In a separate release today, Palm announced the Palm Ultra-Thin Keyboard, a full-size, collapsible touch-typeable keyboard. The sleek keyboard remains rigid when in use and then collapses smoothly into a compact stainless steel package.
Application Software
The Palm Tungsten T handheld comes bundled with 19 productivity, communication and entertainment applications. A complete list and description of applications is available here.
Memory and Battery Life
The Palm Tungsten T handheld is a 16MB device with 14MB of actual storage capacity. Users also have the ability to store additional applications and documents on SD Cards via the Palm Expansion Slot. With an internal, rechargeable lithium ion battery, the Palm Tungsten T handheld lasts up to one week with basic PIM usage at default brightness before recharging.
Palm research shows that Palm Tungsten T handheld capabilities are precisely the capabilities that savvy, discerning customers want -- full functionality for popular business file formats such as Microsoft Excel, PowerPoint and Word, expandability for the latest applications, and wireless connectivity. Palm Tungsten T handheld customers are strong advocates of new, well-crafted technology. They are entrepreneurs, telecommuters and executives on the move and dependent on mobile devices to excel at work. An estimated 37 million people fit this description, and are expected to be the earliest converts to the Palm Tungsten T handheld's precision and power. (Source: March 2002 Maritz: Thompson Lightstone US only segmentation study)
Pricing and Availability
The Palm Tungsten T handheld is $499 (estimated U.S. street price). All products are available immediately worldwide and online at The Palm Store
.
Article Comments
(241 comments)
The following comments are owned by whoever posted them. PalmInfocenter is not responsible for them in any way.
Please Login or register here to add your comments.

Comments Closed
This article is no longer accepting new comments.

Only the first 50 comments are displayed within the article.
Click here for the full story discussion page...