Rumor: Possible Palm OS Powered SmartPhone?
Wednesday, November 13, 2002 12:51:11 PM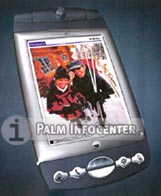 PalmInfocenter Exclusive: An anonymous source has sent us this image, of what appears to be a Palm OS Powered SmartPhone. A quick look at the image shows a possible built in digital camera, microphone, and high-res screen without a silkscreened graffiti area.
It is unclear which licensee has developed this handheld or if it is just a design mockup. You can click on the image for a larger picture.
This image could quite possibly be from a design-study mockup that is used for gauging focus-group reactions or internal "concept PDAs". Companies will often take a number of different design ideas (sometimes just one), build them up into (semi-) functioning hardware (or sometimes even just images) and get people's reactions. This is during the design phase and often they will then mix and match features etc. as they refine the hardware and feature-set.
On the other had, this could be an image of a next generation Palm OS Powered SmartPhone. One possibility that you can't rule out is that this could be a crude mock-up made by some overzealous "fanboy" created in Photoshop or CAD. This could even be some sort of new Palm OS tablet-like model.
Some things that we can tell based on the image is that the device has some form of high resolution screen. There is also no dedicated silkscreened graffiti area. We can't tell exactly but it could be anywhere from 320x480 to 480x640. The model would also likely have a form of virtual graffiti or other alternative input method.
There are icons for the standard DateBook, Address Book, the Web Pro Browser and an unfamiliar icon in the shape of a mobile phone. The small circle on the right looks to be a microphone, which would support voice/phone abilities.
As Always, We will bring you more on this story as it develops.
Article Comments
(64 comments)
The following comments are owned by whoever posted them. PalmInfocenter is not responsible for them in any way.
Please Login or register here to add your comments.

Comments Closed
This article is no longer accepting new comments.

Only the first 50 comments are displayed within the article.
Click here for the full story discussion page...