palmOne Announces Bluetooth GPS Package
Tuesday, May 25, 2004 10:55:23 AM
palmOne today announced the GPS Navigator. The Bluetooth enabled GPS receiver is paired easily with the Tungsten T3 and Zire 72 handhelds. It provides users with satellite guide maps and directions.
Navigation capabilities are quickly becoming more commonplace. No longer constrained to high-end cars and high-end devices, GPS technology is being added to everything from cell phones to standalone GPS receivers that track a child's whereabouts. As a result, sales of GPS receivers -- in handheld devices, cars, planes and boats -- are expected to reach $9.4 billion in North America by 2008, according to research firm Frost & Sullivan.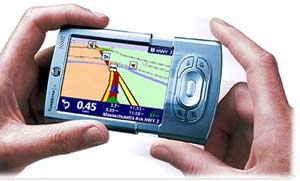 "GPS technology, which is exploding in popularity in Europe, is now poised to take off in the United States," said Jim Schwabe, general manager of palmOne accessories. "GPS Navigator from palmOne is another stellar solution that can be easily added to the Bluetooth-capable Tungsten T3 and Zire 72 handhelds."
TomTom, a leading provider of personal navigation systems, provides sophisticated GPS software. Special features include a wide array of street-level and highway maps for the entire United States and Canada, customized door-to-door navigation and voice-guided turn-by-turn instructions.
"palmOne and TomTom are natural partners because both companies aim to create products that are easy for our customers to use," said Jocelyn Vigreux, president of TomTom. "By working with palmOne, the handheld market leader, we are moving closer to our goal of making GPS navigation accessible for every driver and every car."
How It Works
The Bluetooth technology-enabled receiver sits on the car dashboard, where it identifies the car's position using at least three satellites. By communicating with the GPS receiver via Bluetooth, the palmOne handheld obtains real-time location information and displays 2D or 3D maps by TomTom. Using the handheld's high-resolution screen, these maps automatically show the receiver's (and hence, the car's) current location.
After a location has been identified, the GPS Navigator by palmOne can:
Display detailed street and highway maps for the entire United States and Canada
Customize directions using door-to-door navigation
Give voice-guided turn-by-turn instructions
Automatically recalculate the route after a wrong turn
Instantly re-route to avoid a roadblock or congestion; and
Highlight millions of points of interest, including gas stations, airports, shops and other destinations.
The GPS Navigator from palmOne will be available on palmOne's online store beginning June 11, 2004. The $299 product includes palmOne's Bluetooth GPS receiver, TomTom Navigator software for the entire United States and Canada, a vehicle device cradle with windshield mounting bracket and recharging cables for the palmOne handheld and GPS receiver.
UPDATE
According to palmOne, the Tungsten T and T2 handhelds will not work with this new package because they use an older Bluetooth standard.
Article Comments
(46 comments)
The following comments are owned by whoever posted them. PalmInfocenter is not responsible for them in any way.
Please Login or register here to add your comments.

Comments Closed
This article is no longer accepting new comments.