palmOne NVFS Flash Memory Controversy
Monday, November 22, 2004 2:45:32 PM
Members of the handheld community have uncovered a few issues involving the new Non Volatile Flash Ram systems (NVFS) found in the new Tungsten T5 and Treo 650. Users are claiming the new memory requires as much as 30% more of the same space on a non-NVFS handhelds and has some performance issues.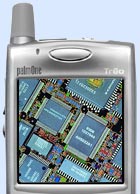 While the new flash systems found on the Tungsten T5 and Treo 650 smartphone, do offer some advantages users are also discovering some not so advantageous side effects. The new Flash systems require less power and continue to store the devices memory contents without a charge.
Bececause the new system the DataManager for NVFS systems was changed to now store memory in 512 byte storage chunks. Initial users are discovering that this causes some files, especially smaller databases, to require as much as 30% more space than usual, because any file record under 512 bytes is stored in a 512 byte space. This creates a situation where even less memory is available to the user, making an already paltry 23MB free on the Treo 650, even more cramped.
User reports and discussions on this topic have been raised on a number of websites lately including, Slashdot, myTreo.net, Treonauts and the Treo message boards. PalmInfocenter has confirmed that files stored on the Tungsten T5, do consume a larger percentage more in internal RAM storage, than they do on non-NVFS handhelds.
Article Comments
(49 comments)
The following comments are owned by whoever posted them. PalmInfocenter is not responsible for them in any way.
Please Login or register here to add your comments.

Comments Closed
This article is no longer accepting new comments.