webOS 1.3.1 Packs Nasty App Surprises For Importers
Tuesday, November 24, 2009 4:32:42 PM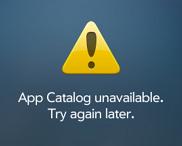 Palm seems to be suffering from a touch of schizophrenia regarding its international customers. On the one hand, we're given new capabilities that make it easy to use international networks. On the other? We seem to be no longer be welcome in the App Catalog, which now appears to be locking out users who have not activated their Pres on O2. Understandably, those users are outraged.
Your correspondent has seen this before - specifically, when I used the webOS Doctor to install the Sprint 1.2.1 firmware on my unlocked Pre. It seems that later versions of webOS & the App Catalog will specifically check which country your Pre was activated in before it will let you inside - and if you're not on an approved carrier, you'll be turned away like a badly-dressed bum from a nightclub. The question is: was this a deliberate move on Palm's part or a simple technical mistake which didn't take the unlocked phones into consideration? PIC has contacted Palm seeking official comment and will update you as we get more info.
That's not the only issue with the Euro App Catalog that's cropped up with 1.3.1, though. More after the break...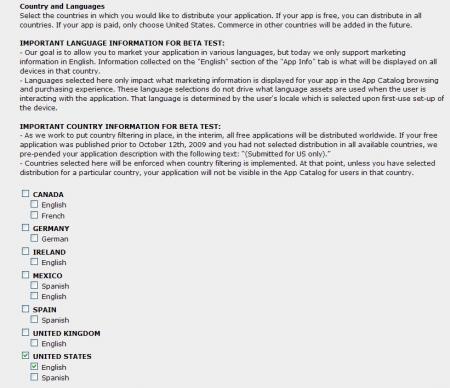 As PreCentral reported yesterday, even approved carrier customers are having App Catalog problems with the latest webOS, which now implements geo-filtering to determine the selection of apps it shows you. This obviously makes sense for location-based apps that are useless in other countries. The problem is that by default, Palm's submission process automatically selects United States rather than worldwide - so any developers who clicked through the form without paying close attention will find their apps are no longer available to the global webOS audience. You can see for youself in the screenshot (lifted from PreCentral).
How to fix all this? Personally, your correspondent expects a Euro-specific webOS update may be pushed out, should the App Catalog international lockout turn out to have been a mistake. And while they're at it, why not restore all the apps we were previously able to access with webOS 1.1.3?
In the meantime, I'm personally going to be Doctoring back to 1.1.3 and downloading all the apps I can, because automatic app updates still work fine for apps you already have installed.
Article Comments
(31 comments)
The following comments are owned by whoever posted them. PalmInfocenter is not responsible for them in any way.
Please Login or register here to add your comments.