Acrobat Reader for the Palm Beta Released
Tuesday, April 10, 2001 9:16:45 AM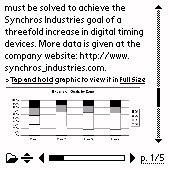 Adobe has made Acrobat Reader for the Palm OS immediately available as a free public beta. The product allows users to view files in the ubiquitous Adobe PDF format. It is capable of displaying both text and images and preserves the rich content of files - styled text, images, and bookmarks - and adapts it for viewing on small screens. Users can also search for a specific word or phrase. It includes a desktop application that converts the PDFs for viewing on the Palm and the Palm OS viewer application that lives on the handheld.
After launching the desktop application, the user drags and drops a PDF file onto it. Files created using Acrobat 5.0 will offer a better reading experience on the handheld device than documents created using earlier versions of Acrobat because they are automatically tagged with information on the document structure and organization. This allows for easier and more reliable text re-flow on the smaller device. Results for non-tagged PDF files will vary depending on the quality and complexity of the source files.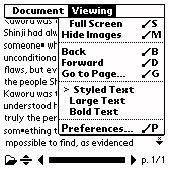 The next time a HotSync operation is performed, the Adobe PDF file is transferred to the viewing application on the handheld. The user can then launch the Acrobat Reader application and select the Adobe PDF file to be read.
It requires Windows 98, Windows NT 4.0, Windows ME and Windows 2000 (users must have Palm Desktop 3.0.1 or higher),and Palm Powered devices with Palm OS 3.1 or higher and a minimum available memory of 200K. The shipping product will initially be offered in English and is expected to be available in the second half of 2001. Support for other language versions, as well as the Macintosh platform, is expected in future versions.
"Customers have expressed an overwhelming interest in reading Adobe PDF files on mobile computing devices like Palm handhelds," said Joe Eschbach, vice president, ePaper Solutions Group, Adobe. "This is something we wholeheartedly support. It fits our vision for the Acrobat product family and the future of Network Publishing, where people will have universal access to information. We're excited to provide the public early access to this new capability."
"Reading Adobe PDF files while on-the-go has become an absolute necessity for business professionals today," said Alan Kessler, general manager for Palm 's Platform Solutions Group. "I know Palm handheld users will be as delighted as we are to have Adobe PDF files available on the Palm OS platform."
Article Comments
(26 comments)
The following comments are owned by whoever posted them. PalmInfocenter is not responsible for them in any way.
Please Login or register here to add your comments.

Comments Closed
This article is no longer accepting new comments.