PalmSource: OS 5 at the Center of Attention
Wednesday, February 6, 2002 1:31:40 PM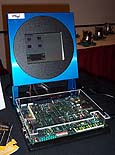 The star of the annual PalmSource convention has clearly been Palm OS 5. As it is arguably a make-or-break proposition for the the platform, this isn't surprising.
Of course, at the heart of the new OS is its support for ARM-based processors. It isn't locked into to chips from any single company and the OS has been demonstrated here at the convention running on processors from Intel, Texas Instruments, Motorola, and Cyrus, though these are all development boards. Palm itself has chosen TI to power its OS 5 handhelds.
Last summer, Palm created the Palm OS Ready Program. This got the processor manufacturers to create a Device Abstraction Layer (DAL) for their own processors. This is sort of a translation layer between the hardware and the OS, intended to remove any incompatibilities between, say, Intel and Motorola chips. This saves the Palm OS licensees a tremendous amount of work and allows them to choose the processor they like without having to write a DAL of their own.
Despite the change to a new processor, OS 5 handhelds will still be able to run a large majority of current apps thanks to an emulator. According to Steve Sakoman, the CTO of the Palm OS subsidiary, just yesterday officially named PalmSource, about 80% of current apps should make the jump, which, according to him, is about the same number as made the switch to OS 4.
Applications that aren't compatible violate one or more of Palm's rules for creating apps and do things like directly access the hardware. The PalmOS emulator (POSE) has been warning developers for years that not following the rules will cause problems in the future and OS 5 is the point where these apps will no longer work.
In addition, PalmSource is moving ahead with the operating system and some very old apps are going to get left behind. If an app was written for OS 1.0, odds are it won't run under OS 5.
One of the most frequently asked questions about OS 5 is, "How fast is it?" That's a difficult question because it depends partially on how fast the processor is. There are about 12 processors currently in the Palm OS ready programs and these range from 18MHz to 1GHz.
Because most ARM-based chips are significantly faster than the Dragonball processors in current handhelds, the emulator will often be faster than current models. However, that isn't always the case. Using one processor to emulate another isn't easy and there will be some apps that actually run slower, like very code intensive ones.
On the other hand, code that has been recompiled for ARM-based chips is 61 times faster on a 200MHz ARM processor compared to a 33MHz Dragonball one. Displaying graphics can be twice as fast.
An important thing to keep in mind with OS 5 is that it is not intended to run on the hardware from any single company. PalmSource has the job of creating an operating system that will allow its licensees to create the handhelds they want to create, not force them into a mold of PalmSource's. That's why OS 5 has support for screens up to 320 by 320 but doesn't require the licensees to use 320 by 320 screens. If a licensee wants to use a 160 by 160 screen in an OS 5 handheld, it can. The 320 by 320 screen is the current upper limit but not the only one possible.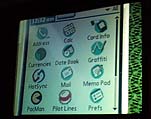 Despite all the talk about it, there has been remarkably little demonstration of OS 5's user interface. Most of the demonstrations have been of applications, often specially-written to show of some specific feature. Mr. Sakoman did demo what he called OS 5 running at 320 by 320 on a TI processor, the user interface was essentially the same as the one in OS 4. At this time, it is not yet clear whether this is the final version of the interface or not. It is known that the user interface will allow themes and the licensees will be able to create their own new ones.
OS 5 is quite modular. This means that if a licensee needs to only install the pieces it needs for its specific hardware. For example, if a company decided to leave the infrared port out of one of their models, they can easily remove the portion of the OS that controls the IR port.
As reported, no current hacks will run under OS 5. However, there will be a way to create hacks for OS 5.
With enterprise users in mind, the OS emphasizes security, including 128-bit systemwide data-encryption using the RC4 encryption algorithm. Secure Socket Layer (SSL) services are used for email and web browsing.
The move to better processors means the OS can do a much better job handling multimedia. It has support for recording sound and playing CD-quality digital music. Of course, it will be up to the licensees to include some of the hardware necessary for this, like microphones and speaker jacks.
Just as a demonstration of its capabilities, Intel has an XScale processor running OS 5 showing a MPEG movie. Refresh rate is good and the whole thing looks impressive.
The Licensees and OS 5
One of the top stories from the conference has been the announcement that a beta of OS 5 is ready and that the Golden Master will be sent to the licensees late this spring or early summer. At that point, it is up to the licensees to release handhelds to run it. Of course, these are already being planned, based on early versions of OS 5. Mr. Sakoman would only say that he had seen the time between an OS going Golden Master and a handheld release be as short as a month and a half.
The Palm Solutions Group, which is the portion of Palm Inc. that makes hardware, is, of course, totally committed to OS 5. According to Todd Bradley, COO of the Solutions Group, it will introduce a Palm-branded, ARM-based product line with wireless capabilities by fall of 2002.
At a keynote speech at the PalmSource conference, Mr. Bradley put a tremendous emphasis on wireless connectivity. This doesn't mean all Palm-branded handhelds will have built-in mobile phones. Instead there will be a range of options, like Bluetooth, 802.11, and others.
He also said that his group is aware that many consumers aren't interested in a handheld with a built-in mobile phone. Instead, they want to use their current mobile phone as a wireless modem. This process will become easier as Bluetooth becomes more commonly used. He pointed out that Ericsson alone has sold 1.5 million phones with built-in Bluetooth.
Mr. Bradley said several times that TI would make the processors in their first generation of ARM-based handhelds and made no mention of using any others.
In a interview, the president of HandEra said his company would certainly be releasing a handheld running OS 5, though he wouldn't go into specifics.
He also wouldn't give any more details on his company's recent announcement that some company will be releasing a handheld with a color QVGA screen, though he implied that his company would be doing so.
He did say that Palm will not allow HandEra to include the Universal Connector on its handhelds and said the company may stick with the Palm III connector it is using now, though this will be improved.
Update: While both Handspring and Sony representatives had very positive remarks to make about OS 5, neither was willing to officially comment on when their company would release handhelds running it.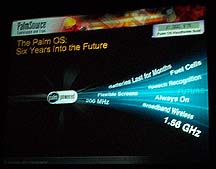 Palm OS 6?
PalmSource has already begun to plan for the next version of the operating system, which Mr. Sakoman said hasn't been assigned a name yet; it could be OS 5.5 or possibly OS 6. This will be as significant a change as the move to OS 5. Actually, it appears that PalmSource it taking a two-stage approach to updating the Palm OS. OS 5 is only the first stage.
This version will allow fully native ARM applications. it will remove many of the current limits in the OS. More details will be available later this year.
Related Information:
Article Comments
(211 comments)
The following comments are owned by whoever posted them. PalmInfocenter is not responsible for them in any way.
Please Login or register here to add your comments.

Comments Closed
This article is no longer accepting new comments.

Only the first 50 comments are displayed within the article.
Click here for the full story discussion page...