Rumor: Palm Zire Revealed
Tuesday, September 24, 2002 11:58:02 AM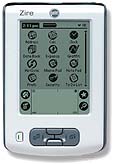 Palm's new dual brand architecture, which was introduced yesterday, divides the company's products into two sub-categories: Consumers and Professionals. The first get the Zire family, the second the Tungsten family. The Zire family is intended be easy to use, simple, fun, empowering, and intuitive.
On October 7, Palm will announce its first Zire sub-brand handheld, which doesn't have a model name of it's own yet. Palm Zire will have 2MB of RAM and use Palm OS 4.1. It won't have the Universal Connector nor a cradle, and it will only come with two hardware buttons instead of four, plus the Up/Down separated buttons.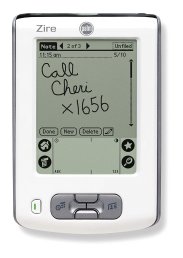 Palm Zire will come with two rechargeable batteries (included) and an external charging adapter which will be separate from the mini-USB HotSync cable. Both the power adapter connection and the USB HotSync connection will be located on the top of the unit. An internal IRDA port is there too. Palm Zire is 4.4 by 2.9 by .6 inches (112 by 74 by 16 mm) and it will be the lightest Palm PDA ever, only 3.8 ounces (109 g). A protective flip-lid is included.
Palm Zire will arrive with Palm Desktop 4.1 for Windows with Chapura Outlook plug-in and Palm Desktop 4.0 for Macintosh.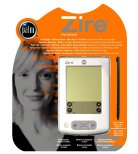 The "Calc" icon was finally replaced by a new "favorite" icon, which will be used for HotSync on default (There is no HotSync button since there is no cradle). Palm has left only two buttons, which are used for the DateBook and AddresssBook programs. Bad news for serious gamers; however, they aren't intended to buy the new Zire.
The price will range from $100-$130, depending on when and where the Zire is purchased. It will be sold in a plastic transparent blister packaging.
Adam Zeit is an Israeli journalist (PcMediaPlus, Information Week) and also the Editor in-chief of Palmi, the leading Israeli site handling PDA's, Gadgets and Cellular Phones.
Article Comments
(238 comments)
The following comments are owned by whoever posted them. PalmInfocenter is not responsible for them in any way.
Please Login or register here to add your comments.

Comments Closed
This article is no longer accepting new comments.

Only the first 50 comments are displayed within the article.
Click here for the full story discussion page...