Palm.net Drops Unlimited Service Plans
Wednesday, January 22, 2003 1:08:47 PM
(Updated 6:15pm) Palm Inc has quietly dropped its unlimited wireless data plans for the Palm.net service. Palm.net is the sole wireless service provider for the Palm VII series and i705 handhelds. Plans that used to cost $35 a month could now run over $200 with the same usage patterns.
Palm SG has begun sending certified letters to current account holders and users whose contracts are expiring soon, informing them of the new pricing and plans. The new service plans for Palm.Net became effective 1/20/03 for new subscribers or expired contracts. Palm.Net service subscribers who activated before 1/20/03 will remain on their current plan until notified by Palm.Net.
Formerly Palm.net offered an unlimited amount of data service for $39.99 USD. Now the same rate only allows 1MB of data transfer a month and there is a .10 cent charge for each additional kilobyte that goes over that quota. 1MB of data on the Palm.net network is roughly equal to 250 emails, 150 stock quotes and 300 simple web queries. Roughly one (160x160) monochrome screen of text is equally to one kilobyte.
A letter sent to one affected executive helps to detail the dramatic pricing change. Because his unlimited account contract has expired the letter from Palm informed him that he could no longer use the $39.99 unlimited wireless plan. His options now were to pay the same amount for 1MB of data. Based on his prior usage history he would have to pay $220 a month for the same amount of data under the new plan.
A spokesperson from Palm Inc explained that the plan changes are the result of a policy change at Cingular Wireless, which operates the mobitex network which Palm.net is based on. Because of the Cingular policy change, the unlimited plans are no longer financially viable for Palm.net. Palm is recommending users take steps to lower the amount of kilobytes used. Palm is exploring other ways to help users manage their usage and will make something available in late February.
Palm Solutions Groups next generation wireless handheld, the Tungsten W, uses GSM/GPRS for wireless data and voice services and does not require a service plan from Palm.net. It can use new existing GSM accounts, from AT&T and other wireless carriers. The Tungsten W is expected to ship by the end of the first quarter. GPRS data offers much faster speeds than Palm.net.
This table below shows the revised and original Palm.net service plans: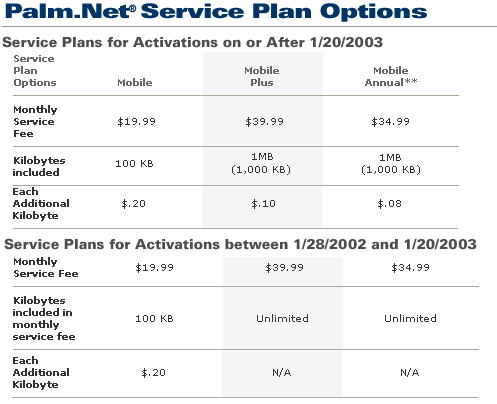 UPDATE: Palm Inc has informed us that existing annual plans for unlimited coverage will remain unchanged for the length of the current contract, but no renewals will be accepted. Current subscribers of monthly plans for unlimited usage will be migrated to a new plan with variable metered pricing between now and the end of the year.
Most customers will see little change in their billings. Only 4 percent of Palm.net customers use more than the ceiling for the new plans. The changes reflect additional costs for wireless service passed on to Palm.
Palm.Net customers will be notified in writing before the migration occurs. Palm also will offer an incentive to move affected Palm.Net subscribers to Tungsten W, which Palm expects will be available this spring in the United States with carrier service provided by AT&T. Palm's customer service team is available to answer questions at 1-888-756-7256 or custcare@palm.net.
Article Comments
(33 comments)
The following comments are owned by whoever posted them. PalmInfocenter is not responsible for them in any way.
Please Login or register here to add your comments.

Comments Closed
This article is no longer accepting new comments.