Wireless Messaging Solutions for the Treo 600
Monday, July 14, 2003 10:12:57 AM
UPDATED Handspring has made a number of announcements regarding the wireless messaging system for the Treo 600. Good Technology is working to deliver their GoodLink 2.0 wireless corporate messaging system to the Treo 600. Handspring has also announced SEVEN will provide the default mobile email software on all Treo 600 devices sold by Sprint PCS and Visto will also make their Visto Mobile Access Solution available for the Treo 600. Handspring has also selected the Airprime EM3420 CDMA module for the new device.
SEVEN
SEVEN will offer Treo 600 users secure, real-time, over-the-air access to their Microsoft Exchange, Lotus Domino, IMAP and POP email, PIM information and documents. SEVEN's software, which is currently available on the Treo 300 and 270,will be the default email client on all Treo 600 devices sold by Sprint PCS.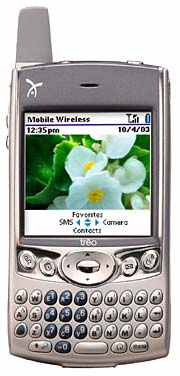 SEVEN and Handspring have worked closely together to support Sprint email solutions since the launch of the Treo 300 last summer. Today, SEVEN's mobile communications software powers various email solutions already available across the Treo family of products, including Sprint PCS Business Connection, Cingular Xpress Mail, and SingTel Group's MobileMail.
GoodLink 2.0
Good Technology and Handspring today announced a new strategic relationship. Under the deal, Good Technology will deliver the GoodLink 2.0 wireless corporate messaging system to the Handspring Treo 600. GoodLink 2.0 provides wireless email and real-time synchronization for Microsoft Exchange. The companies have not named a specific carrier that will include the software.
GoodLink 2.0 provides enterprises with cradle-free, real-time synchronized access to Microsoft Exchange Server-based data so that users can instantly access e-mail, contacts, calendar, notes and tasks when they are away from their desktops. GoodLink enables users to view e-mail attachments in Microsoft Office, WordPerfect, HTML, PDF and RTF file formats. he GoodLink system includes synchronizing server software, nationwide wireless service on a variety of networks, and applications software for a variety of devices and operating systems.
"With GoodLink 2.0 and the Treo 600, Good and Handspring can offer businesses a sophisticated enterprise-class wireless email and data solution, on the most innovative converged device design," said Ed Colligan, founder, president and chief operating officer of Handspring. "GoodLink's 'Outlook-in-your-pocket' experience - including full email, calendar and contact synchronization - offers users an incredible benefit, offering a solution that doesn't compromise their wireless voice experience or their wireless data needs."
Visto
Visto also plans to extend Visto's wireless corporate email solution to the Treo 600 smartphone. Visto offers Visto Mobile Access Solution, Server Edition, which provides departmental and enterprise access to corporate email without the need for a desktop computer. Visto's Desktop Solution is designed for individual access to corporate, Internet and POP3 email via smartphones such Treo Communicators, as well as enhanced, WAP capable devices. Both Visto solutions provide secure mobile access via standard wireless services.
Visto co-developed and launched Treo Mail with Handspring in early 2002 as the first mobile email solution designed for the Treo products. Treo Mail is hosted by Visto, providing secure, mobile access to desktop email through automatic delivery of corporate and Internet-based POP3 email. Visto expanded its support for Treo to its entire line of server and desktop wireless email solutions.
Handspring and Visto also announced that they are in discussions to have Visto assume responsibility for the Treo Mail service, including the marketing and customer support functions, which are currently provided by Handspring.
In related news, Handspring has selected the AirPrime EM3400 series as the CDMA2000 1x wireless module to power the Treo 600. The EM3420 module unlocks all the wireless features and applications for the Treo 600 including comprehensive voice services, SMS functionality and integrated assisted GPS for E911 compliance. Additionally, the EM3420 enables high-speed bi-directional data rates up to 153.6 kbps to power the compelling data-focused applications that come standard with the device.
Article Comments
(5 comments)
The following comments are owned by whoever posted them. PalmInfocenter is not responsible for them in any way.
Please Login or register here to add your comments.

Comments Closed
This article is no longer accepting new comments.