Control Your Mac With A Bluetooth Handheld
Thursday, September 4, 2003 11:44:07 AM
Salling Software has announced Salling Clicker v.2.0, a substantial update to its award-winning software that lets users remotely control Macintosh applications from a handheld device over Bluetooth.
The new palm program lets users control any Apple Mac OS X machine over Bluetooth. The software's functionality had previously been reserved for Bluetooth equipped Sony Ericsson phones. For instance, users can play and pause a DVD or music on your mac with iTunes and review track/album information from a Tungsten T. There is also a mouse mode, which lets users move the pointer with the Tungsten D-pad.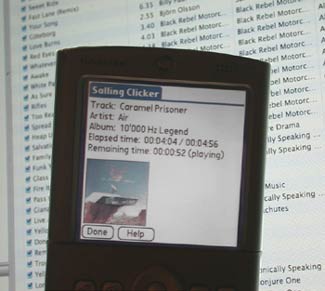 While listening to music in iTunes, the latest version of Clicker allows you to see where you are at in a song, or what song is currently playing. Using the same technology, slide notes in PowerPoint are now presented on the display of your handheld,
The brand-new iPhoto integration, with picture slide show functionality, lets you search your iPhoto library by date or description, even giving you a chance to preview pictures (Palm only) before showing them on the LCD-projector.
In Salling Clicker 2.0, the original concept of proximity sensing has been extended to include more general "activity awareness". When you pick up your phone to receive or make a call, Clicker can pause iTunes or DVD player for you; when you hang up, the music or movie will resume automatically.
Salling Clicker v.2.0 is available through Salling Software's web site (www.salling.com) at a price of $9.95 (US) for Sony Ericsson phones and $14.95 (US) for Palm OS handhelds, per user license. The Sony Ericsson version is a free upgrade for existing customers. In unregistered trial-mode, Salling Clicker is limited to 30 clicks at a time. The software is designed to run on all Bluetooth equipped Macintosh computers, requires a palmOne Tungsten T, T2 (other models will be supported soon) or compatible Sony Ericsson mobile phone (T39m, T520m, T68m, T68i, T610, or T616), and Mac OS X version 10.2.6 (Bluetooth 1.2.1 recommended) or later.
Sailing Clicker is not the only Mac program to do this. Another developer has also just made available Veta Universal 1.0. The program uses Romeo 0.9.1 and a palm application to remotely operate Mac applications.
Thanks to Guarav for the tip.
Article Comments
(18 comments)
The following comments are owned by whoever posted them. PalmInfocenter is not responsible for them in any way.
Please Login or register here to add your comments.

Comments Closed
This article is no longer accepting new comments.