Palm Debuts New Tungsten T3, E and Zire 21 Handhelds
Wednesday, October 1, 2003 12:00:02 AM
Palm today has launched their new fall handheld lineup. Palm has introduced two new Tungsten handhelds, the T3 and Tungsten E and a update to zire line with the new OS 5 Zire 21. Palm has also dropped prices on some of it's current models and has discontinued the m515 and m130.
"Skillful integration of distinguished hardware and innovative software is key to a great customer experience, and we're convinced our new handhelds will please new and experienced Palm handheld customers," said Ken Wirt, senior vice president and general manager of Palm's Handheld Business Unit. "What's more, Palm's business innovations let us price the new handhelds very competitively."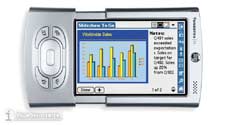 Tungsten T3
The Tungsten T3 handheld is Palm's first device that supports a high-resolution color screen in landscape, as well as the typical portrait mode. The screen display is 50 percent larger than on any previous Palm branded device.. With integrated Bluetooth, a 400mhz XScale processor, 64MB of RAM (52MB user available), and superior office and multimedia capabilities, the Tungsten T3 handheld offers exceptional performance in a compact design for an estimated U.S. street price of $399. Read the full PIC review here.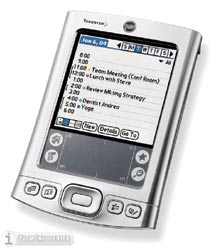 Tungsten E
The Tungsten E handheld features 32MB of RAM (28.3MB user available), a 126mhz TI OMAP 311 processors, the same crisp high-resolution color display found in the TT2 and Zire 71, updated core PIM applications, multimedia software and SD expandability. It retains the classic Tungsten appearance, with its compact, sleek modern form and improved 5-way navigator for one-handed navigation.
The Tungsten E's dimensions are 4.5" x 3.1" x 0.5" inches (114 x 79 x 13 mm), and weighs 4.6 ounces (128g).This handheld gives professionals an upscale handheld with premium features for an estimated U.S. street price of $199. A full hands on PIC review will follow shortly.
Zire 21
The Palm Zire 21 handheld offers more software, a much faster processor and four times greater memory (8MB, 7.2 user accessible) all at the same low $99 price point. The Zire 21 is an affordable and easy way for the first-time handheld-buyer to juggle daily tasks surrounding work, family and social activities.
The Zire 21 also runs a 126mhz TI OMAP 311 ARM processor. With the latest Palm OS software, Version 5.2.1, the Zire 21 handheld also features the classic Palm PIM (Personal Information Management) applications with an emphasis on value and simplicity. Palm's famous, easy-to-use PIM applications (Date Book, Address Book, Note Pad, To Do List, Memo Pad, and Calculator) allow users to quickly keep track of important information. Recurring appointments need only be entered once. Helpful reminder alarms alert users to meetings or appointments.
The Zire 21's dimensions are 4.4" x 2.9" x 0.6" inches (112 x 74 x 15mm) and weighs 3.8 ounces (108g). New software essentials are included on the Zire 21 handheld installation CD. Users can keep track of birthdays and anniversaries, automobile maintenance, passwords, and expenses, as well as read an eBook and play games with software included in the box. A hands on PIC review will be forthcoming.
"The Zire 21 handheld is Palm's sequel to the fastest-selling handheld in history," said David Christopher, vice president of product management for Palm Solutions Group. "With the same great price and ease of use, the sequel offers more memory for data and applications, as well as faster performance. We expect the Zire 21 handheld to be another hit with first-time users and gift-givers."
All of the above handhelds are available now in most countries worldwide via consumer-electronics outlets, major retail chains and online e-stores. They can also be ordered online from the Palm.com webstore.
Price Cuts
With the addition of the new models comes a few price cuts and discontinuations. The m515 and m130 have officially been retired. The original Zire has been lowered to $79, while the Tungsten T2 has been reduced to $329. Many retailers are also offering discounts on the Tungsten W for around $299.
Article Comments
(66 comments)
The following comments are owned by whoever posted them. PalmInfocenter is not responsible for them in any way.
Please Login or register here to add your comments.

Comments Closed
This article is no longer accepting new comments.

Only the first 50 comments are displayed within the article.
Click here for the full story discussion page...