Hawkins Speaks on the Treo 600 and Future
Friday, October 31, 2003 2:12:40 PM
A recent interview with Jeff Hawkins, Palm Inc founder and now palmOne chief technology officer, has been published where he speaks on his future role with palmOne, the Treo 600 and even future products plans. Also today, the Treo 600 made an appearance on the Howard Stern radio show.
Hawkins Interview
In a recent interview in the Investors Business Daily Hawkins talks about the merger with Palm Inc, his feelings on the smartphone space and the Treo 600 and he goes on to start talking about his next big idea for mobile computing.
Some highlights from the interview:

I got the bug in my head that the future of personal computing was going to be mobile devices, mobile computing. I looked at the world of PCs and said, "This ain't gonna work for a world of 6 billion people."
[...]
I'm convinced that everyone in the world is going to have a (cell) phone and they all should be smart phones. Everyone should have a little e-mail, Web browser and access to information anywhere in the world.
On the next generation Treo and Competion...
There are some things that we can do to compete against these guys in the smart phone space. But already, and this is going to be a big tease, I have the unbelievable next big thing in mind that I want to work on.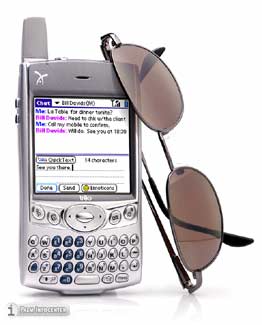 One of the reasons I wanted to merge Handspring with Palm was because of this idea. And it's something that was bigger than just Handspring could do on its own. I felt that the combined companies were perfectly aligned to do this new thing.
Howard Stern likes the Treo 600
Gizmodo brought to my attention an interesting piece in Jeff Jarvis's blog. Famous US Radio personality Howard Stern bragged about his new Treo 600 this morning on his show. This site (Thanks Gekko) also has a synopsis of the mention on the show.
He [Howard] was showing off his new Treo 600 to the gang this morning. He takes a picture so we can all hear the neat sound it makes. He is proud. cont...
Article Comments
(44 comments)
The following comments are owned by whoever posted them. PalmInfocenter is not responsible for them in any way.
Please Login or register here to add your comments.

Comments Closed
This article is no longer accepting new comments.