Pre Pitted Against Evo in Detailed Comparison
Monday, June 21, 2010 2:50:44 PM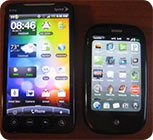 Long-time Palm OS users who choose not to make the transition to webOS generally end up in either the iPhone or the Android camp, depending on any number of factors. However, deciding which non-Apple platform can be quite a daunting task for long-time Palm OS fans.
Thankfully, Android Central has posted an blow-by-blow comparison piece between Sprint's two flagship smartphones entitled "Pre vs. Evo: An Epic Breakdown". In the piece, June of 2009's Palm Pre squares off against June of 2010's HTC Evo 4G in a head-on match of the current top of the pile for Sprint's WebOS and Android devices.
The participants in this debate, Contributors Craig Froehle and Don Ferguson, both offer some amusing banter as well as some keen insight into the strengths and weaknesses of both WebOS and Android. Even more interesting are their comparisons of both platforms to the ancient but familiar Palm OS Garnet, especially in the realm of the long-neglected aspect of PIM functionality.
While each of the participants have more experience with Garnet and WebOS than Android, they do an admirable job of showcasing each platform's strengths, weaknesses, and quirks. Mr. Froehle is likely best known to long-time Palm OS users as the founder of Memoware, the original e-book site online. Mr. Ferguson is a longtime industry veteran and ex-IBM staffer and is currently a corporate consultant.
The piece delves into both hardware and software factors and offers a good bit of "real-world" insight into particulars of the platform comparisons. This is article is a great read for Palm users on the fence about moving to a modern platform as well as those who have already transitioned to WebOS or Android but are uncertain if they made the right decision.
Article Comments
(130 comments)
The following comments are owned by whoever posted them. PalmInfocenter is not responsible for them in any way.
Please Login or register here to add your comments.

Only the first 50 comments are displayed within the article.
Click here for the full story discussion page...