Garnet VM Working on the Nokia N900
Tuesday, December 8, 2009 11:14:38 AM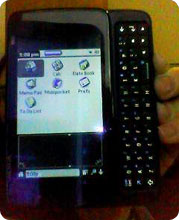 Palm OS Garnet holdouts have another option for running classic Palm OS apps on fully equipped modern hardware that is shipping today.
Nokia's new N900 Maemo 5 powered smartphone is now capable of running Access' Garnet VM emulator. While it is still officially unsupported at this time, an install is possible with a little bit of command line tinkering.
Access Garnet VM has traditionally been aimed at Nokia's maemo powered Internet tablets. However the latest update will work on N900 without many complaints, the trick is simply getting it to install.
The relatively simple instructions come to us from a thread on Nokia's site. Credit goes to sarahn and Bruce at talk.maemo.org. Bruce writes:
I downloaded the latest OS2008 package then opened an xterminal (shell), changed to the folder where I downloaded the package, gained root access, then ran "dpkg -i garnet*.deb". The package installed without complaint and the application ran. I was uncertain how to exit Garnet once starting it so I ended up powering off the phone to exit.
sarahn adds:
To quit:
Press power button and then "End current task"

To switch tasks:
Press ctrl + the '<-' key (this is the standard shortcut that works everywhere.)
The catch is that the current version of the Garnet VM is not built for the latest version of Maemo. With the steps above you can get around the default install process which does not work. Most user reports claim that it works fairly well, though being an emulator on unsupported hardware there may be additional incompatibilities and issues. If anyone does take the plunge be sure to report back here on your findings.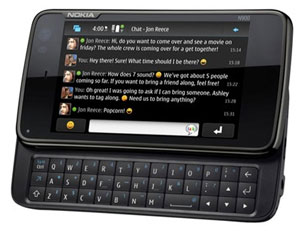 The Access Garnet VM emulator can be downloaded here.
The Nokia N900 is currently shipping worldwide. It is available today in the US at Amazon.com for around $549. The N900 is a GSM phone with a 3.5 inch capacitative touchscreen display with a 800 x 480 pixel resolution. It comes with 32GB of internal memory with microSD expansion, a slide out qwerty keyboard, WiFi, Bluetooth and a 5 megapixel autofocus camera with video capture.
Article Comments
(22 comments)
The following comments are owned by whoever posted them. PalmInfocenter is not responsible for them in any way.
Please Login or register here to add your comments.